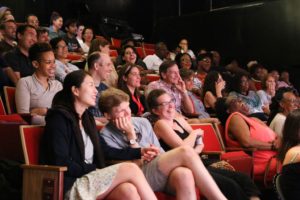 Huge thanks to everyone who attended last night's show. It was wonderful gathering of creativity, courage, goofiness, and generosity.
Everyone who came to share dinner and attention saw people who were brave enough to take the stage in front of a room full of a hundred, and tell some truth about their lives. Producing this show over the last 6 years, this feat can start to feel commonplace to me, as it might to you if you regularly listen to storytelling podcasts or attend shows. Given the popularity of storytelling in pop culture, people opening up about complicated and vulnerable subjects like hope, responsibility, loss, inspiration, healing and abuse in front of a crowd can seem easy. But it isn't easy. Storytellers are not only revealing personal material publicly. They're making art out of their experience which requires constructing a narrative arc, anticipating what a group of strangers needs to know in order to understand and be invested in their story, finding their voices through choices about sensory detail and internal monologue, and most challengingly, they're telling the truth about what matters to them. Putting words to what's most important.
That kind of truth-telling isn't easy. Speaking the deep understanding and insight that we carry about our lives is challenging because we don't have much practice. There aren't a lot of situations that invite us to share the truth we know: the things we've really learned while we've been here, the things we know about love, the things we really want for ourselves and each other. Until we figure out as a society how to ask and listen for these shimmering, sobering truths more regularly, a stage remains a good place for them. A story remains a good place for them. At it's best, theater has always been a place for the soul's voice to ring clear above the fray.
I'd like to share a bit of truth with regard to Here Chicago, as well. I mentioned on stage last night that while our storytellers are warmly welcome to bring their passions and politics to the stage, I remain pretty non-political while up there hosting. I'd like to say a little bit on that. My priority with this show is to offer a place where people with varying perspectives, experiences, backgrounds and identities feel welcome to tell their truth. Sometimes issues I care about feel so important or urgent that I'm tempted to mention them on stage; to join in with other people's passions. But I don't because I think this could alter what I mean to offer with this show, which is a place and time where people with differences along the lines of money, conservatism or liberalism, cultural heritage, sexuality and gender identity, age, religion, profession, privilege, and even politics, feel equally at home. If I start expressing my politics at the show, they may well resonate with most of you, but it could contradict my purpose of offering an equanimous welcome.
And… if I'm telling the deeper truth… refrain-in-the-name-of-equanimous-welcome isn't the only reason I don't utilize that platform for more activist purposes. Like last night, I could have used the event to give people information for helping victims of the hurricanes in Puerto Rico, Florida and Houston, and that would have been an entirely non-political thing to do. It wouldn't have been divisive or offended anyone. (Wanting to save the lives of innocent people from natural disaster is pretty universal across the board.) Sometimes, like last night, I don't use that platform for helpful activism, just because I am overwhelmed. And in my overwhelm, I participate in an age-old tradition of White Middle Class American culture: denial.
Likely the capacity for denial has nothing to do with skin pigmentation, but can be associated with any group of people who have enough privilege to afford to simply look away from suffering. In this country, it's white people whose cultural tendencies have been deeply shaped by this privilege. I was raised in a white working class/middle class neighborhood filled with good people who also had ingrained talent for ignoring things that were very painful. 'Act like everything is fine,' 'Wait for it to pass,' and 'Think positively' and 'I can't do anything about that, so why stress?' were statements made in my communities on the regular. This approach to ignoring suffering (our own and other people's) rather than confront the pain of healing and solving, has caused a lot of harm and prevented a lot of repair. Denial isn't based in skill, but in hopeless fear, and it almost killed me growing up. So it makes me especially sad when I find it operating in myself as an adult.
I seem to have been practicing it for the last few weeks: not calling my representatives, not attending protests, not sending aid to victims of the hurricanes. I am sorry. And I am grateful to those who've remained active. I am grateful to last night's storytellers who work hard and purposefully to contribute to the greater good. I'm grateful to my friends who have driven down to Houston and Florida to help people rebuild and salvage. I am grateful to friends finding ways to get help to Puerto Rico. I'm grateful to my own Mom who has found a new and unwavering determination to continue calling her representatives every single day through the political madness of this year. And I am grateful, humbled and instructed by the NFL players who are linking arms with each other, communicating that they support of one another and will not be divided by their teammates wishes to express grief, respect, or protest, in the way feels right to them.
Their way of showing unity, with hands on each other's backs or linking arms during the anthem while various people sit, stand or kneel, is stunning to me. It sends the message that they won't be pit against each other based on differing individual truths. That unity seems to hold a wisdom that many of us need, and transcends most things I've seen in the last 9 months. The choice to display a resolved togetherness that includes differences of experience and expression is admirable. It is not a togetherness that pretends that 'Everything is fine' or that 'We have no differences'. It is a unity that says "Our togetherness includes all of this. We won't continue to ignore or deny suffering. We can address and solve these problems through united effort, and through the pain of disagreement. But the pain doesn't destroy us, and we won't allow power structures to tear us apart. We can respect differences, and remember there is also something common among us. We won't be made to fear and hate each other. We remain united."
I'm not writing this article with any foregone conclusions. More thinking my way through. I have always meant Here Chicago to be a place where people can come to experience that kind of inclusive unity. And so, as I move to throw off my recent denial and reignite my activism in public and private life, and while I continue to book the show with an eye to gathering voices that may not normally be amplified, I will likely remain mostly quiet about my own politics on that particular stage. Maybe that will change someday. But right now, I feel strongly that this is my activism with this project: to provide a welcoming common ground where people from many backgrounds, points of view, and experiences can come together to sit, stand, kneel, shout, protest, laugh, sing, grieve, salute, and speak their deeper truths, knowing that they will have our hands on their back while they do it. Hate speech of course remains an exception to this. Because that is blind dysfunction, and is very far from being anybody's deeper truth. The deeper truth, hard as it can be to speak or to hear, is always what brings us to link arms.
Nestor Gomez was our Audience Favorite walk-up storyteller last night. People loved his piece about his son's journey from falling down as a child to standing up as a young man, and inspiring Nestor to keep fighting. It was a powerful story. And it had stiff competition! Our other walk-up tellers Eboni Sampson, Nan Sack and Luke Babb also told inspiring, vivid stories that the audience voted highly for.
Our Features Ana Diaz, Reynolds Wintersmith, Julie Meckler, Susan Haarman and Michelle Auger also told wonderful stories. We are so happy and grateful that they joined us!
Thanks as ever to our volunteers. Matt Flemming, Nan Sack, Gary Gushulak, Lauren Yarborough, Luke Babb, Eric Stassen ran an easy and lovely show. Thanks to Nnamdi Ngwe for hosting charm and grace.
Please enjoy the pictures below from the night, taken and generously donated by Eric Stassen. And our podcast should ACTUALLY be posted in this article in a few days! We've had some trouble finding volunteers with the technical skills necessary to make this happen over the last few months, but think we've finally got this coordinated. So please check back in about a week if you'd like to listen to our show!!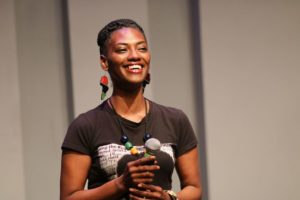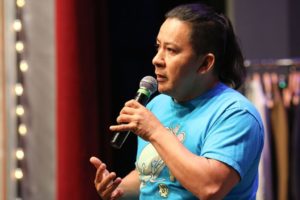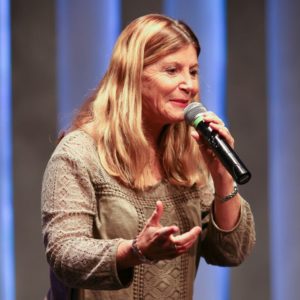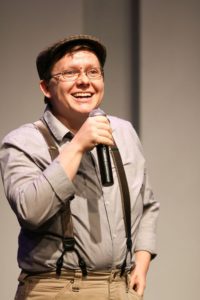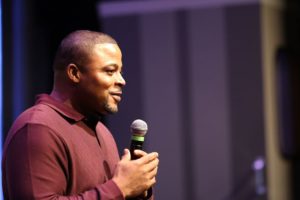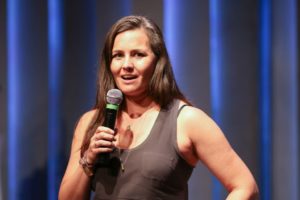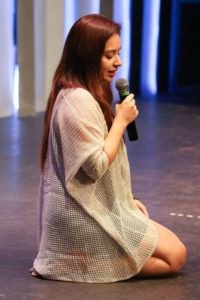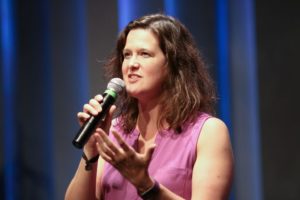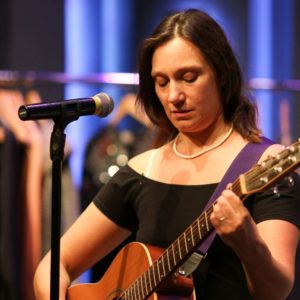 Thanks for watching, listening and sharing. See you again in November. Next date to be posted here soon. :)
Here, Chicago
Stage 773, 1225 W. Belmont
7:30 Potluck | 8pm show
Tickets