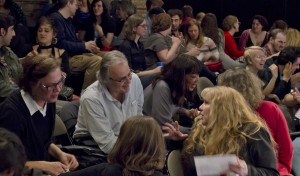 Our mission is to bring people together with varied professional, cultural, political and personal identities, to connect us with one another and discover common ground. We aim strongly to foster the arts of sharing and listening; to encourage approaching difference with curiosity, rather than combativeness. We are as happy to provide a platform for the work of known and emerging performers, as we are to provide the pleasure of a stage for those who have never set foot on one before.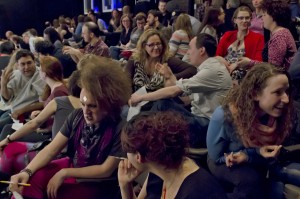 It is with great love for this city—which continues to be a heart and home for some of the most important movements and artists of our century: musical, theatrical, literary, political, educational, architectural, scientific, etc.—that we wish to offer Chicago's residents a place to overlap, listen, and be and inspired by each other. We choose embodied storytelling as our medium for exchange.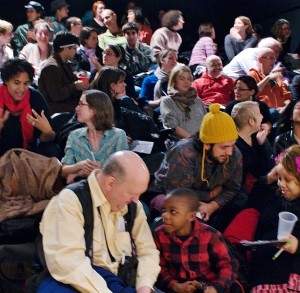 In the tradition of good story-swaps, our evenings are potlucks, so there are many ways to share. Whether you are contributing a carefully prepared story or dish, or sharing your attention, there are lots of ways to give to each other. Come for a night of amazing live theater, and for the chance to give other people something good.