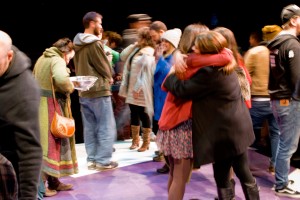 Here, Chicago is produced, directed, and curated by Janna Sobel. Nnamdi Ngwe and Janna co-host the show together.
Since Here, Chicago is built to be an opportunity for many different people to collaborate each month, the names of those who have contributed their stories, their culinary wiizardry, inspired artwork, technical skill and equipment, as well as time and energy to helping set up, break down and run the show, are multitudinous, and cannot be accurately recorded.
There are folks who donate time to the production of the show on a committed basis, and we mean to acknowledge them here…
Janna Sobel
Producer, Director, Co-Host of Here, Chicago, Janna is a writer, performer and teacher. A staff teacher at The Second City Training Center and contract teacher for iO Chicago and Stage 773, Janna creates game and performance forms that serve to strengthen communities and increase personal freedom. She offers private coaching for groups and individuals, and leads Intuitive Treasure Hunter, an IRL game that fosters self-trust and story-worthy experiences. As a storyteller, she's been a return-feature with Chicago's most beloved live-lit events, and is a proud collective member of Real Talk Live. You can learn more about her work at jannasobel.com and talk with her at janna@herechicago.org.
Nnamdi Ngwe
Nnamdi is Co-Host of Here, Chicago. He is an actor, writer, comedian and improvisor, and creator of the series Julius. After performing and teaching in Colorado, Nnamdi moved to Chicago to do the same. He's a proud member of the improv group 3Peat and can be seen performing with Chaos Theory, The Deltones and The Armando, and teaching at the iO Theater, The Second City Training Center, and other places. In addition to his work with the Ngwebros, Nnamdi has been featured on Funny or Die, has been Jimmy Carane's guest on Improv Nerd, and has worked on numerous commercials, shorts and features. Learn more about him at nnamdingwe.com.
Mary Cait Walthall
Mary Cait is the current House Manager for Here, Chicago. She improvises with Super Human at iO and the Improvised Star Trek on the internet (www.theimprovisedstartrek.com). She writes things, too, mostly in her journal, but sometimes for public consumption on stages and pages. She also loves directing, devising, and teaching improv and theater things. And she says hi. Hi.
Molly Emmons
Molly is the current Ticket Pixie for Here, Chicago. She is also an actress and improvisor and has played with the beloved, long-running iO Harold Team Inkling, and The Velvet Rope. She and Nate Parkes are parents to Lyric Rose. In the past, she's served as Executive Assistant at FCB Chicago, and has traveled extensively and taught English in Japan and South Korea.
Brian Vabulas
Brian is the Angel Who's Wings Are Made of Code. He is the Guardian of this website, and helps with anything intimidating or frustratingly complicated. He also built the site. Brian is an improvisational and voiceover actor, a graduate of Second City's Acting & Conservatory Programs, and a founding member of Hugs & Pullups. He designs and maintains websites. Ask us for his contact information.
Wolfgang Stein
Wolfgang designed beautiful logos and banners for both Here's the Story and Here, Chicago. Wolf is a director, comedic actor, improvisor and graphic designer, and co-produces the brilliant monthly variety show, "Jack & the Wolf Present: The Bucket Show". You can learn more about all of his work at steintime.tumblr.com.
Martha Sue Coursey
Martha Sue designed and donated the painted hands images used in our newsletter. She is an Art Director at Zynga games. She is also a painter and illustraitor, and a mother of two ridiculously wonderful children. She lives in Hayes Valley in San Francisco with her husband Jim.
Frequent Volunteers
These are people who help run the event. For various stretches of time, they have regularly helped set up the potluck, break down tables, and make everyone feel welcome. Everyone volunteering in this fashion could also easily steal the show with their talents as performers and storytellers! They're amazing people to have working behind the scenes. Heartfelt thanks to them:
Nan Sack, Lauren Yarborough, Christie Grace, Javier Smith, Xerxes Vandament, Alize'Jireh, Andi Nelson, Lily Be, Clarence Browley, Xavier Jordan, Brandie Rae Madrid (also past House Manager), Matthew Williamson (also former Staff Photographer & Sound Editor), Erin Kahoa, Martha Reddik, Tina Arfaee, Jeremy Adler, Andrew Wang, Rob Kuschell, Stephanie Douglass, Joe Janes, Ron Abraytis, Wolfgang Stein
Former Co-Hosts
This is an area of unique appreciation. In the beginning of Here Chicago, before Janna and Nnamdi met, Janna was joined by a different guest co-host every month! It was a wild ride, and each of these generous, talented people were asked to co-host because of their unique creative sensibility, wit, heart, and trustworthiness:
Stephanie Douglass
Robbie Q Telfer
Tara DeFrancisco
Mary Cait Walthall
Lily Be & Xavier Retana
Erin Diamond
Reggie Eldrige
Jen Bosworth
Ian Belknap
Dana Norris
Erin Kahoa
Dave Jennings
Deanna Moffitt
Ranjit Souri
Lindsay Muscatto
Angela "Anjie-O" Oliver
Javier Smith
History
Here, Chicago stands on the shoulders of an event called Here's the Story, which was created by Janna Sobel and Daniel Boyd in the winter of 2010, and ran until summer of 2013. In June of 2014 Here, Chicago debuted, and the creative community it fosters continued to grow and thrive. Because of the connections between Here, Chicago and Here's the Story, we also want to thank those here who contributed to the life of the Here's the Story show.
Co-Creator and Co-Host of Here's the Story
Daniel Boyd majored in creative writing at Otterbein College. After college he continued to write and participate in the storytelling communities he lived in until finally settling in Chicago where he and Janna founded Here's the Story. He also founded the Storyluck non-profit organization, and produces the Chicago events A Month Of… and Journey to the End of the Night. 
Collaborators & Allies
Following are the names of people who, through the donation of their time, art, effort, or knowledge, gave Here's the Story invaluable support:
Lauren Yarborough, Luke Babb, Matt Flemming, Matthew Williamson, Eric Stassen, Christy Grace, Javier Smith, Brandie Rae Madrid, Dana Norris, Aria Alexander-Manifold, Alyson Lyon, Arlene Malinowski, Keith Ecker, Deanna Moffit, Nathan Smith, Ian Belknap, Lindsay Muscato, Joe Janes, Don Hall, Stephanie Douglass, Kim Dearnly, Makiko Yamauchi, Jill Howe, Susan Maller, Michael Maller, Molly Emmons, Mary Cait Walthall, Scott Whitehair, Wolfgang Stein, Kristin Abhalter, David Boyd, Valentine Soposky, Amy Kuttab, Sas Ponnapalli, Kenton Quatman, Christopher Bonham, Adam Baker, Ray Whitehouse, Stefan Saito, Polly Yukevich, Katie Liessener, Erin Diamond, Ray Teresi
Financial Backers
Following are the names of people who generously gave financially through a kickstarter campaign to make Here's the Story's 2013 season a reality. Their kindness provided a space for great stories to be shared and heard. Knowing these folks graced our lives and we hope to honor that grace through continuing good work. These people stood by us in a special way and we'd like to thank them here.
Adam Charles Baker, Amrita K. Dhaliwal, Andy Boyd, Aria Alexander Manifold, Arlene Malinowski, Arvon Byle, Benjamin Rabin, Brian Posen, Britini Rios, Byron Roussin, Carol Williamsen, Candace H. Bias, Charlotte Richardson, Chicago Story Collective, Concisely Magazine, Craig Weissman, Dan Boyd, David Boyd, David J Boyd, Deanna, Dee, Delores Ruen, Dorothy Clare Tessman, Duo Yang, Erik Gerdes, Francis X Bergh, Frank R Sjodin, Frankell Baramdyka, Gene Kaylan, Hailey,James Whitledge, Janna Sobel, Janet Richardson, Jen Bosworth, Jennifer E Nette, Jill Howe, Jocelyn Geboy, Karen Rogers, Kathy Kaylan, Kathryn Thoresen, Kenneth Brezinsky, Kim Dearnley, Kym Paszkeicz, Little Independent, Lorelei, Makiko Yamauchi, MT Cozzola, Megan Stielstra, Michael DeRan, Michael Grandillo, Michael Ruen, Monte J Laforti, Nadams, Nancy, Nathan Smith, Nicholas Tramdack, Nicki Mazzocca, Noah Firestone, Patricia Boyd, Patricia Whitledge, Rafael D Suarez, Robert Biedrzycki, Robert L. Richardson, Robert G Richardson, Robert Rollings, Ryszard Borys, Sabine Choucair, Sally Byle, Sean P Owiecki, Shannon Cason, Shift News, Stephanie Pereira, Stephen Poon, Steven Coberly, Thomas Richardson, Trudy Valenti
Thank you all.