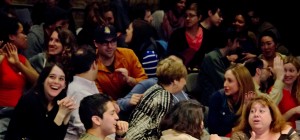 After more than five years of presenting to sold-out houses, Here, Chicago continues with a passionate purpose: giving people with various creative, professional, cultural, political and economic backgrounds a place to enjoy common ground. In a city like Chicago– both incredibly diverse and famously separated, and full of some of the best people and greatest artists, thinkers and creators of our time– there is much talk about the wish to come together. So, over a giant community potluck dinner and true personal stories, we do.
Here, Chicago is theater. But it overcomes some of theater's traditional limitations by inviting it's heroes directly onto the stage. Rather than a fortunate few performers and writers "representing" a range of voices to those fortunate enough to afford seats, we offer FREE admission to anyone bringing a potluck dish, and people get up to tell their own stories.
The show takes place at Stage 773 at 1225 W. Belmont in Chicago, and the beautiful stages offer our tellers a dignified frame. An evening's lineup includes five invited features– chosen for their varied experiences and a hunch that they'll tell you a good story– and five tellers who sign up straight out of the audience. All tellers bring pieces that are carefully crafted and well-rehearsed.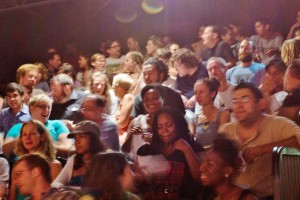 Some of our tellers are seasoned performers… slam poets, solo-artists, stand up comics, writers, improvisors, professional storytellers… and many are not. We have heard stories from doctors and cab drivers, farmers and activists and graffiti artists, programmers and ministers and dancers, political strategists and school teachers and corporate CEOs… teens and retirees. A list of past features can be found on this page. If you'd like to see who's featuring at our upcoming shows, visit our home page!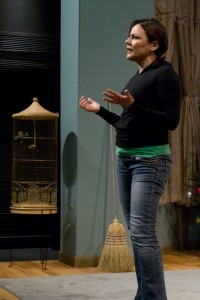 Telling:
Our focus at these evenings continues to be the kind of old-timey storytelling practiced under porch-lights and on street corners by people who have a truth to tell.
If you would like to tell a Walk-Up Story, bring a well-rehearsed, page-free story, 5-6 minutes long, that you feel good telling without notes, and arrive close to 7:30 to sign up. A few minutes before 8, we select 5 people from the list with an eye toward variety in point of view. We also try to put folks on stage who have not been up the previous month. Walk-up tellers are participating in a story-slam. The audience gives points by ballot to the tellers they'd like to see return to tell again next month. Votes are tallied the following day and and the winner is posted on this website.
Five featured storytellers are invited ahead of time. Four of them are people we invite because we think they have good stories and will tell them well. One of the featured tellers is the walk-up teller selected by last month's audience to return as a feature this month. You can submit to feature by contacting admin_AT_herechicago.org. Please do note that, as with any curated periodical, submission does not guarantee selection.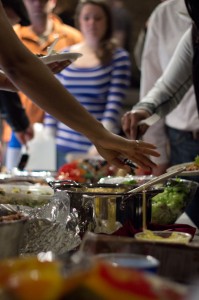 Potluck:
By uniting a group of story loving folks around a monthly dinner and story swap, we make a place for people who don't normally spend time together, to feed each other.
If you bring a potluck dish, your admission is FREE. In exchange for free admission, we ask you to bring something carefully prepared or chosen, that can feed at least 8 people. We discourage soda and junk food. The night is better when people take care in crafting or selecting their contributions. Sweet and savory are both swell.
Dinner is for everyone. Whether you bring a dish or contribute $11 toward the venue rental, please enjoy the potluck because it's for you. Both contributions are equally valuable.
Whether you are buying your ticket or bringing a dish, you must have a ticket reserved. Both types of tickets are available online, through the BUY TICKETS link on the right sidebar. Only one person is allowed free entry with any one dish.
Don't bring alcohol or anything you don't want to lose. Remember to bring your dishware home after the event.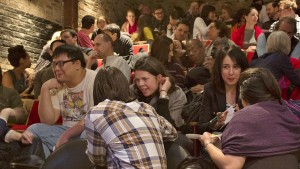 Tickets:
Because Here Chicago takes place in a theater, ALL ATTENDING THE SHOW MUST HAVE TICKETS; whether free/potluck admission, or $11 for general admission. Both types of tickets (Free Potluck and General Admission) are available through the "BUY TICKETS" link in the upper right-hand side bar on this page. If you plan to attend, we strongly advise reserving online in advance. The show takes place in a theatrical venue (and not a bar that can be packed to capacity) so seats are limited.
Online tickets are self-serve. We are never available to book them for you by text, phone Facebook, or email request. Also– no matter how much we love you– no seats are available after the show sells out. Because of theatrical fire-codes, there are sadly no exceptions to this.
Other:
We feel content is usually suitable for people over the age of 15, though not guaranteed to be. We don't know what stories will be told ahead of time, but 85% of them tend to be teen-friendly. Younger kids… we're not sure. We leave it up to individual parents.
The show is wheelchair accessible. Service animals are welcome.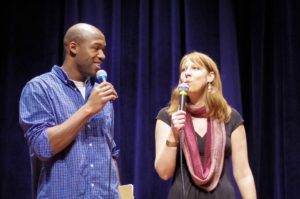 Here, Chicago is hosted by Janna Sobel and Nnamdi Ngwe. Here's a very dorky picture of us. To learn more about Nnamdi, click here. To learn more about Janna, here.