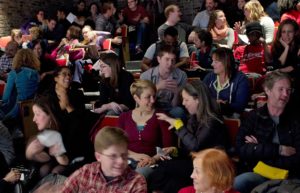 An exceptional group of people are joining us as featured storytellers on April 23rd. These are some of the best human beings we know, and some of the best storytellers as well. We can't wait to share them with you. We also offer 5 OPEN storytelling spots for the express purpose of giving you a place to tell your story. Here, Chicago exists for no other reason than to give Chicagoans a chance to come together and listen to each other, so we invite you to consider sharing a piece of your life. Funny stories, serious, exciting, inspiring, reflective… all tones are welcome. Your piece must be 4-6 minutes long, and well-rehearsed. No notes are allowed on our stage. Please arrive before 8pm to sign up to tell.
If you'd like to share in a different way, Here, Chicago also offers a giant potluck dinner. If you contribute a prepared dish to the dinner, we offer you FREE admission. Dishes we love range from casseroles to veggies to salads to sides to main courses to soups to snacks and desserts. Contributions don't have to be expensive or labor-intensive! But we do ask them to be either made or chosen with care. (Junk food isn't really our jam.)
If you plan to join us, we recommend saving seats online in advance. Both general admission and free potluck tickets are available here. The show sells out, and so we encourage folks to plan ahead and save their spots.
Here are the good souls who'll be joining you on Sunday, April 23rd: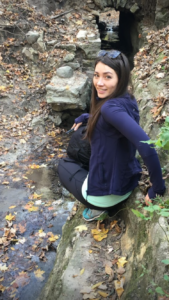 Jenny Maguire is a former defense attorney and current prosecutor. She is originally from Seattle, and has never been able to quit the resulting coffee addiction. Every 2-3 years she has moved to a different city in search of the ultimate truth and the best soft tacos. She is a proud Chicago resident of 1.8 years and is a newbie to the story-telling scene.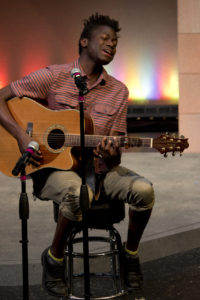 "Humanitarian Activist. World Citizen. She named me Abraham Mellish. I am a son of a Kpelle woman named Tetama Sumo and a Bassa man they call Abraham B. Mellish. I use the umbrella term Afro, Folk, Pop to describe my music, a gift handed to me by the Creator. I have survived two civil wars while living in my country of Liberia which has made me the man I am today. For that I am grateful. Thank you to the giant that lifted me off the ground when my feet stopped walking, when my stomach kept growling, and my mouth stopped speaking. Followers of my music liken my sounds to Tracy Chapman, Nina Simone fella, Bob, Willie and Johnny Cash. I'm forever moved by those who believe in me and my music, and to them I stay true to the sounds." See more at abrahammellish.com.
Sandra Wortham is the owner and principal of The Law Office of Sandra J. Wortham, LLC. She is proud alumna of Howard University, and a die hard South Sider. She enjoys good food, laughing, tennis and talking about ways to make Chicago great and safe for everyone. And she is the daughter of Thomas and Carolyn. Learn more about her at worthamlawoffice.com.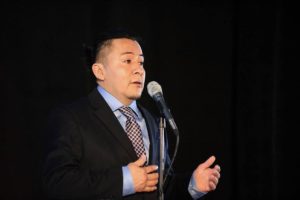 Nestor Gomez is known as Chicago's hardest working storyteller, and is a FOURTEEN-time Moth Story Slam winner and two-time Moth Grand Slam winner, among other honors. Nestor is presently working on his second solo show, and hosts Do Not Submit, Edgewater, the last Wednesday of every month. Nestor works in Quality Control at a manufacturing plant on the North side of Chicago (and reminds himself everyday that he must not quit his day job). For fun he goes out salsa dancing (as long as his old knees still allow him to) or walks his two rescue Pit Bulls around the Edgewater neighborhood. He is soon to be married his lovely and extremely patient fiancé Sweet Mel. Read more about him at nestorgomezstoryteller.com.

Again, if you plan to join us, save your seats now, as we tend to sell out.
Nnamdi Ngwe and I look forward to beaming at you soon. <3
Here, Chicago on April 23rd
Stage 773, 1225 W. Belmont
7:30 potluck | 8pm show
Reserve Seats