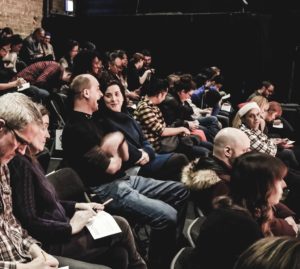 Not to pat ourselves on the back or anything. But we may have rather outdone ourselves with regard to convening excellent souls on February 25th. The purpose of Here Chicago is to bring great people together with a variety of perspectives, to connect over the common grounds of food and storytelling. And if this line-up of featured storytellers is any indication of the goodness to come, we are in for a stunner of a night. Join us for Chicago's most under-the-radar, over the moon joyful, least-reviewed, best-attended little miracle of a show that's ever sold out a 150-seat theater for 7 years straight. Despite (or maybe because of) our genre-defying, clique-avoiding, boundry-straddling nature, Here Chicago steadfastly remains a place for people of all professions, identities, ages, politics, religions, cultural backgrounds, economics and social circles to connect, delight, learn, and listen.
Come listen. And share. If you'd like to tell a story, we host 5 open storytelling spots that anyone may use to tell a 4-6 minute story. Stories should be rehearsed and timed, to ensure they can be told within the allotted time. Just bring a practiced 4-6 minute piece ABOUT ANYTHING YOU FEEL MOVED TO SHARE, and sign up with Lauren on the stage at 7:30. If more than 5 people show up, we select names with an eye towards diversity of perspective, and favor those who've never set foot on our stage. Never told a story? Take heart! Professional performers and inexperienced tellers are met with equal welcome.
Another way to share is to bring food. Here Chicago offers FREE admission to those bringing a dish for the potluck, which starts at 7:30. This is a profound way to connect and share, too. In exchange for free admission, we simply ask guests to bring a carefully prepared or selected dish. Desserts, casseroles, soups, stews, sides, salads, breads, dips, chips, veggies, pizzas, pies are all great! Just no junk food or fast food please. (We also respectfully ask you NOT to reserve a potluck ticket if you may not come. The practice of holding seats by reserving free potluck tickets and then not attending, has made it so that many folks do not get seats even when some are left empty. It's an act of trust that we make these free tickets available online. Please kindly honor that and only reserve if you have definite plans to attend. <3 )
Here are the wonderful people coming to tell you their true stories on February 25th. We hope that you will join us too.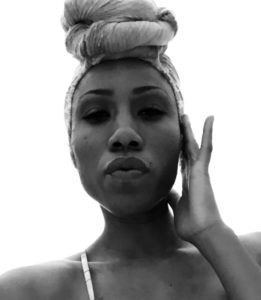 Geneva Manley earned a degree in business from DePaul University, with a major in marketing. She expanded her skill set with a Master of Arts degree in Dance Education from New York University. She became  Director of the Education Outreach Department at Dance Theatre of Harlem. She also joined the adjunct faculty at NYU as Associate Artistic Director, while teaching dance at Brooklyn Academy of Music, and Bank Street. A post-modern dancer and choreographer, Geneva performed in venues such as: Alvin Ailey Theater, Judson Church, National Theatre of Uganda; and co-founded a dance research company in NYC— Dance To The People. Geneva wrote and co-produced a short dance film, gaining recognition at 9 national and international film festivals. Combining her business and arts backgrounds, Geneva is preparing to co-launch a multidisciplinary studio for artists in her home town Chicago; the premise: giving tools to develop authentic identities.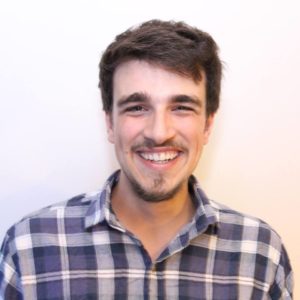 Manuel Botana is a comedian, writer, director, and improviser from Montevideo, Uruguay. He is that cynical guy waiting to be hit by a car, but then survives in order to turn it into a short story about the butterfly effect. His brain works in Spanish and in English, and sometimes shifts languages in the middle of an oración. He considers himself the most successful person in the world, since he gets to invite friends to do cool stuff with him on stage and they say yes. He is an eternal student, so his therapist is worried about him having too many interests. To which he always replies, "All my interests are the same. To tell stories".
Angelina Marie is caregiver, empowerment coach, and certified educator. With experience as a personal fitness coach, fitness chef, child nutrition specialist, bodybuilding champion, and elite level nanny, Angelina is the founder and driving force behind OneTwoThrive KIDS, an organization whose mission is to change the world, one mouth at a time. She teaches nannies to cook, families to eat, parents to say no, and children to truly enjoy real food. She has been telling stories for as long as she can remember talking, and thinks Here Chicago is the best place to be if you're thinking of telling your own. In fact, she hopes you'll put your name in the hat this time.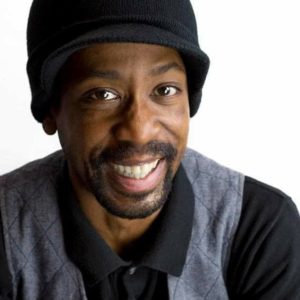 At our last show, Clarence Browley won the vote for Audience Favorite storyteller, and we are so happy to have him return. Clarence is a producer, storyteller and all around nerd. He co-hosts a live storytelling show called The Stoop, every last Thursday of the month at Rosa's blues lounge. He's an easy-going guy who likes to laugh, play video games, and read comics. He lives a mysterious life of magic and wonder… at least, that's what he likes to say to keep people from knowing too much. If there is anything else he wants you to know, he'll tell you in his story.
.
.
.
.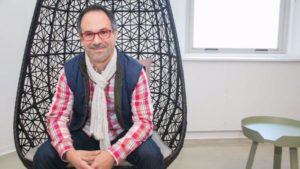 Moises Norena is the proud husband of Marilu, and father of Ana, Diego and Mateo. He is also the VP of Innovation at Moen and Fortune Brands, and created the Certified Innovation Mentor Program at the University of Notre Dame. His journey makes him believe that persistence beats genius. Because his fingers couldn't play the songs of Lennon, McCartney, Clapton, Yes, Rush, Who, The Band or write like Leonard Cohen, Dylan or Silvio Rodrigues, he decided to put them to work with brushes and paint.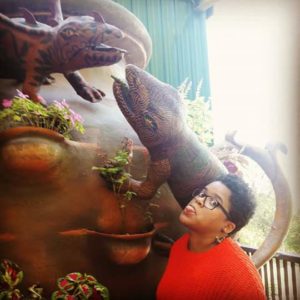 With Nnamdi rocking the world in L.A.,
Lauren Yarbrough
is stepping in as Janna's co-host on February 25th and we are so lucky to have her! A long-time lover of Here Chicago, a regular volunteer on the show, and beloved storyteller herself, Lauren is a compulsive writer, occasional producer, and proud black queer from St. Louis, Missouri. She also volunteers on the board of Chicago Arts Access, a pretty sweet new nonprofit that is building and connecting audiences to the arts in Chicago, bridging arts organizations, art lovers, and community members with free tickets and accessibility services. You can learn more about it (and get
free tickets
to shows!) at freetix.org. She lives in Rogers Park with her partner, a lot of books, and an indeterminate number of struggling houseplants.

.
See? Real excellent company. Please join us to make something great together on the
25th
. :)
.
Here Chicago on February 25th
Stage 773, 1225 W. Belmont
7:30 potluck | 8pm show
GET TICKETS HERE!