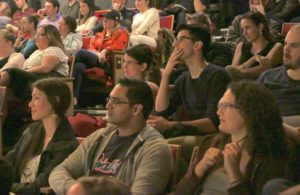 The next Here, Chicago is taking place on September 24th. This article previously listed the date as August 20th. We apologize for any trouble this error may have caused. Please join us in September, when we have a group of wonderful human beings coming to tell you stories and sing you songs. Nnamdi and I greatly look forward to seeing you then!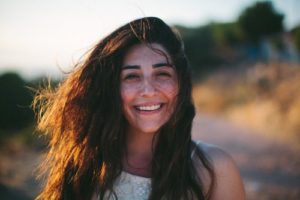 Melis Sonmez is the founder and curator of Bright Side, a podcast and community where immigrants share inspiring stories to empower each other, and show the world their positive impact on society. A Turkish-born design researcher with a background in product design and brand communication, Melis has spent the past three years collaborating with design and strategy teams, tackling complex challenges and contributing insights and strategic thinking to high-visibility projects.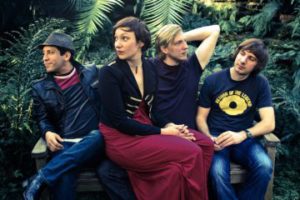 Julie Meckler was born in France and grew up near the Mediterranean Sea. She spent her twenties with a theater troupe near Paris and flew to America in 2008 to pursue a musical career. She landed in New York, bought a guitar, and took to the road. On her way she found her music and her voice. Settling at last in Chicago, she returned to the stage to share her songs, and people all over the world have listened. Julie is a French teacher, a doula, a mother, a wife, a legal immigrant, a home owner and still, a dreamer.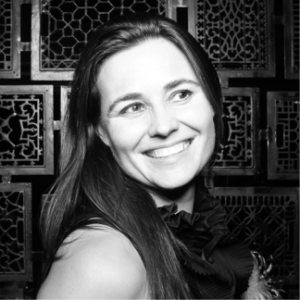 Michelle Auger oversees Human Resources and Talent at DDB Chicago, a world-renowned advertising agency. Her career in HR began when earning her Master's degree in Industrial and Organizational Psychology with a focus on fostering extraordinary performance and leading with emotional intelligence. Mid-way through her Masters a small, fast-growing advertising agency called Trisect asked her to join them to build an HR department that reflected and supported the growth and culture of the agency. During her tenure the agency was awarded 3rd place on Ad Age and Crain's Best Places to Work, joined Crain's Fast 50 List and was awarded numerous Addy's, Reggie's and Lion creative awards. When not in the office, you can find Michelle riding her Harley with her dad, doing Crossfit or writing her next story.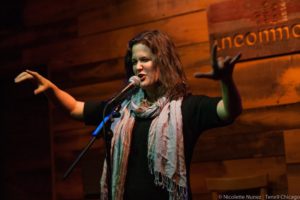 Susan Haarman is your Audience Favorite Walk-Up teller from June! She has worked as a college administrator for over ten years and can show you the gray streak in her hair to prove it. She's also been a hospital chaplain, knife salesman, camp counselor, waitress, Jesuit Volunteer, and lifeguard. She thinks it is less important to tell you how many Moth StorySlams she's won, and more important to say that YOU have winning stories that need to be told and heard. She also thinks Janna is a badass and is hoping this line is left in her bio. (*janna waves)
We can't wait to see you on September 24th. It's going to be a wonderful night. Bring your stories. Bring your friends. Bring a delicious dish to share. Come make something awesome together.
Here Chicago on September 24th
Stage 773, 1225 W. Belmont
7:30 potluck | 8pm show
Tickets