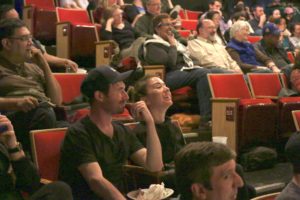 April's show was excellent. Some of our strongest stories in a long time. After the show, we usually reflect on the themes of the night. Here, Chicago doesn't predetermine themes like some shows do because we've noticed that a lovely side effect of encouraging people to trust themselves in story selection, is that the themes determine themselves. Last night, for the first time, I failed to notice a theme! Which doesn't mean there wasn't one– maybe it was just deeper than I could register. But such a broad spectrum of story subjects was equally satisfying. We had stories about driving half-a-million dollar porches, and rescuing animals, going on bad dates and showing up late to a baptism, and Facebook and soccer and making stone soup in a nunnery and finally being perfect in someone's eyes. I was grateful to all of our tellers for the care and craft that went into their stories. And equally grateful to our guests for bringing delicious, gorgeous potluck dishes, and for sharing their warm attention. The night was really wonderful.
The only reason we do this is to come together and share. The name Here, Chicago is an accompaniment to giving. As in "Here, Chicago… this is for you." Everyone involved gives something to make the night what it is. I am happy to give my time and energy to making it happen, too. A few folks asked last night when/whether the show will become regularly monthly again, as it has been for years. Right now it is happening every other month while some other things are requiring attention. It may return to monthly soon, or it may reside at this rhythm for a while. While it remains bi-monthly, it is even more exciting when it comes around. ;)
The features for our next show on June 26th are fully booked, and the line-up is stellar. Some remarkable, inspiring humans are coming to join us. We hope you will too. Tickets are already on sale if you want an early jump. In the meantime, please enjoy these photos from last night, courtesy of Eric Stassen. AND, we may actually have a podcast posted again soon! It will be on this page when it is up– hopefully within the week.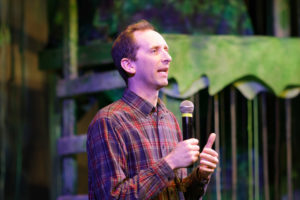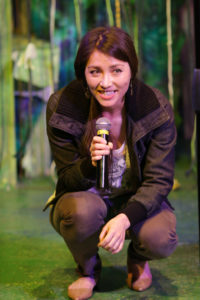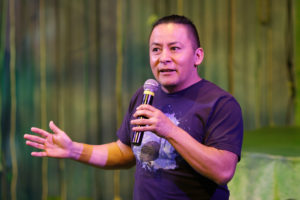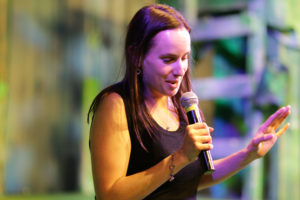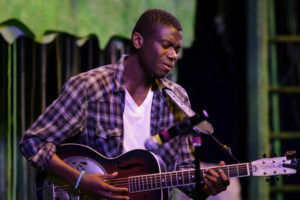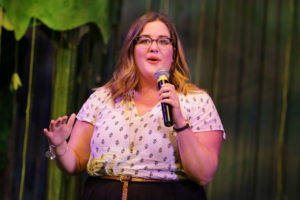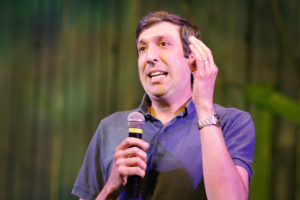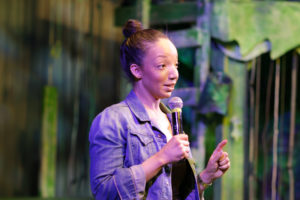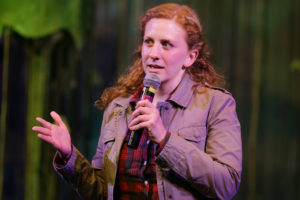 Mary Grawe is our Audience Favorite storyteller from the night! And it's no wonder. Her story was searching, honest, relatable and artfully told. We can't wait to have her join us again. She will sadly/happily be in Italy on June 26th, so won't be able to join us that night! But at your request, she will join us again as featured teller soon after she returns.
Special thanks to Lauren Yarborough for her assistance with publicity and organizing this month. And thanks to EVERYONE who volunteered to run the event. We had an awesome team this time. Thanks to Nnamdi Ngwe for being the best co-host a girl could ever have, and to Matt Flemming for joining us on sound. We're so excited to have him. :) And thanks to Allie Shapiro for being our Artist in Residence for a stretch, and drawing portraits of our storytellers! Thanks again to Eric Stassen for sharing his photos.
If you'd like to get involved with Here, Chicago, write to admin@herechicago.org. And if you'd just like to join us for our next show, do! We can't wait to see you all June.
Here, Chicago on June 26th
Stage 773 at 1225 W. Belmont
7:30 potluck | 8pm show
Reserve Seats Online