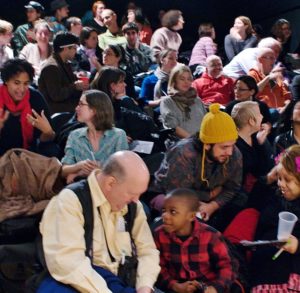 What we have for you in the way of features in February is just plainly a room full of wonderful. Basically, if you want to be in the company of love, wisdom, impressive skill and unique knowledge, that's what's going on. At Here, Chicago we try and mix things up by introducing you to people with a variety of perspectives and knowledge-bases. But February's features all have something in common, which is that they're some of the best and most interesting people we know. On February 26th, they're all for you. You're welcome, Chicago… you're welcome. ;)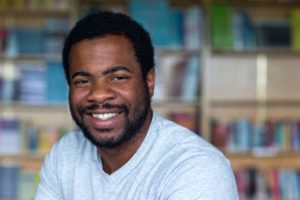 Nate Olison is a performance poet, prison abolitionist, and educator living in Chicago, Illinois. He's a comic book nerd and Spider-Man aficionado who occasionally adults when absolutely necessary, which is lowkey all the time. He loves stories in any form they choose to manifest themselves, and his favorite author is Octavia Butler (obviously). He is currently working on a webcomic called Harriet Tubman in Space, which takes up most of his alone time.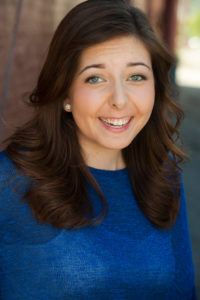 Stephanie Anderson is an innovative clinical educator with over a decade of experience. Before moving to Chicago in 2012, she was the Education Coordinator at Children's National Medical Center in Washington, DC where she led the development of innovative psycho-educational curricula and therapeutic groups for hospitalized youth. She has presented on group dynamics and the application of improvisation in therapeutic contexts at workshops and conferences across the country. Stephanie holds dual degrees in psychology and philosophy from The George Washington University, and is a writer, actor, director, and improviser. She serves on the faculty of The Second City Training Center, and her love of teaching has led her around the country facilitating improv workshops.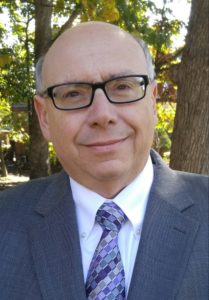 UFO Investigative Researcher Sam Maranto is best known for his work on the mass sightings in Tinley Park in 2004 and the Chicago O'Hare Gate C-17 incident of 2006. He has been involved with many important UFO cases in the area, which involve mass sightings of circular and triangular craft by hundreds of people, including police officers, pilots, and airline personnel. He and these events have been featured in many news articles, popular television shows such as NBC Dateline's Special Presentation, The History Channels UFO Hunters, Ten Best UFO Encounters, and others. Sam is the state director for the Illinois chapter of the Mutual UFO Network, and has been a guest on many internet, local, national and international radio shows as well as being a requested public speaker on this subject.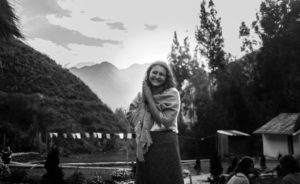 Alizé Jireh Yaccino is a singer and songwriter, videographer and photographer. All of her work is born of love for capturing the real and the beautiful in the world. She grew up in the Dominican Republic, surrounded by sound and sunshine, and now lives in the quiet suburban Chicagoland area where her parents grew up. In her spare time, Alize loves to explore and go on adventures, walk/hike outside, swim, travel, eat around the table with friends, watch good films, practice/teach yoga, and laugh until she's in pain. Visit alizejireh.com to see her work.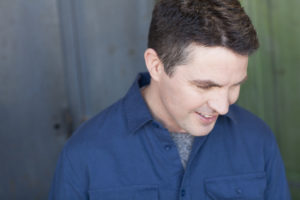 Matt Fleming is a litigation paralegal, actor and volunteer. He is also Here, Chicago's Audience Favorite walk up teller from December! A native Iowan, Matt lives in Chicago with his wife and 3 kids. He enjoys his various creative outlets, traveling with his family, and his volunteer pursuits, which include serving as the chair of Friends of CircEsteem, a local nonprofit committed to uniting youth from diverse cultural and economic backgrounds and building self-esteem and mutual respect through the practice and performance of circus arts.
It's gonna be one of those great ones. And, as always, there will be 5 open-mic spots to be used by anyone in our audience to tell a story. If you'd like to tell, please arrive at 7:30 and sign up with Nnamdi on the stage. We select 5 tellers from the list of sign-ups with an eye towards diversity of perspective, and voices we haven't heard before (though there is always room for returns). Your piece should be rehearsed to be told comfortably in 5-6 minutes without any notes or pages. Our advice to tellers is to bring something that feels exciting to you to share; like a gift you want to give.
Here, Chicago exists for no purpose other than to bring good people together to learn from each other, connect, and enjoy each other's company. We are a commons and a common-ground for people of many different ages, professions, backgrounds and identities to discover and delight in each other's goodness. Learn more about the event, including the potluck, here.
If you'd like to join us, reserve seats! The show sells out, and because it takes place in a theater, we have to turn people away at capacity. If you know that you want to join us, a click of a button saves your spot. The link for tickets (both FREE potluck tickets and $11 General Admission tickets) is HERE.
We can't wait to see you soon!
Here, Chicago on February 26th
Stage 773, 1225 W. Belmont
7:30 potluck | 8pm show
TICKETS