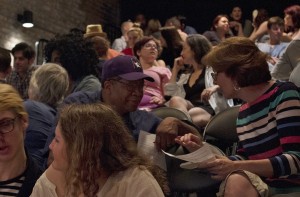 Join us for a beautiful night of true-story theater, dinner, and diverse creative community. Here, Chicago is a spirited and singular event in Chicago's creative cultural landscape. We feature true stories told by fascinating people from all walks of life, showcase local stand up artists and solo performers, and for over four years we have been uniting creative thinkers and doers from all different backgrounds.
Scroll down to read about the excellent people joining us on August 2nd! If it's your first time with us, click here to learn how to bring a story or a dish for the potluck, and about ticketing. We highly recommend reserving seats in advance as the show regularly sells out. You can save seats here. Both general admission and free potluck tickets are available online.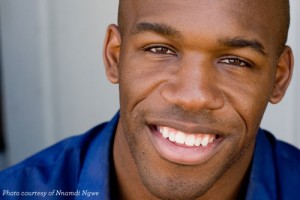 If you've been participating in the show for a while, you might be as happy as we are to know that Nnamdi Ngwe will be joining host Janna Sobel as a long term co-host! We are so excited to welcome Nnamdi, as he is someone who has held the show with warmth, joy and skill during his visits during the last year. Nnamdi is a renowned Chicago improvisor, and a member of Chaos Theory, The Deltones and the Armando Diaz Experience at iO, where he also teaches. He has featured on Funny or Die, and has been Jimmy Carane's guest on Improv Nerd, and Susan Messing's guest on Messing with a friend.
Having a different co-host at every show for the last two years has been a wild ride. It has also been an incredible honor to be joined by these different artists. Here are the people who have co-hosted Here, Chicago since July of 2013:
Stephanie Douglass
Robbie Q Telfer
Tara DeFrancisco
Mary Cait Walthall
Lily Be
Xavier Retana
Erin Diamond
Reggie Eldrige
Jen Bosworth
Ian Belknap
Dana Norris
Erin Kahoa
Dave Jennings
Deanna Moffitt
Ranjit Souri
Lindsay Muscatto
Nnamdi Ngwe
Angela "Anjee-O" Oliver
Javier Smith
It's been such a pleasure to share the stage with each of these wonderful people, and the gift of their support has been deeply felt. As much as anything, this show is an opportunity for participants to trust what "feels right" intuitively, and then watch the goodness that comes from that. In addition to Nnamdi's triple-threat qualifications as a skillful performer, improvisor and trusted friend, it really just feels right to invite him to join us for the long term. Having him as a consistent and knowledgeable co-host feels like it will be as much of a gift to me as it will be to our audience.
Please enjoy reading about this month's features! Can't wait for you to meet them…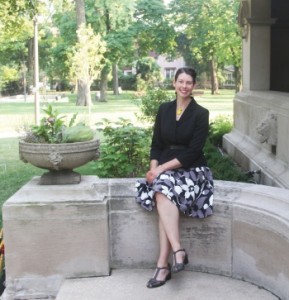 Bonnie McDonald is the President of Landmarks Illinois. She joined the organization in 2012, after seven years as executive director of the Preservation Alliance of Minnesota in St. Paul. Prior to that, she held positions with the Anoka County (MN) Historical Society, the Preservation League of New York State, and Preservation Action in Washington D.C.. Bonnie has a Bachelor of Arts in Art History (Summa Cum Laude) from the University of Minnesota and a Master of Arts in Historic Preservation Planning from Cornell University. (Photo credit: Simon Edelman)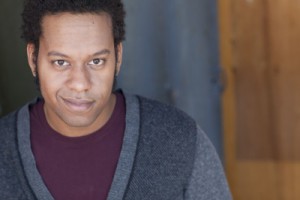 John Thibodeaux is an Improvisor and an Engineer. After graduating Engineering school at The University of Illinois, he moved to Roswell New Mexico where there was a lot more engineering and a lot less improv going on. After 2 years in the desert he moved to Chicago where he still did some engineering but a whole lot more improv. He now tours the country with the Second City. He is a lover of music and a hater of ignorance. You may have seen him in his one act solo show this spring, Ebony Man in an Ivory Tower, which played at both the Bughouse theater and iO Chicago. He also improvises with the talented folks of 3Peat. He would like to thank his family and friends who were very supportive while he switched his engineering/improv ratio.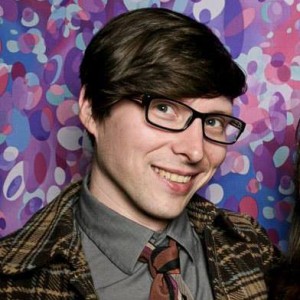 Matthew Williamson has worked in many forms of media over the last decade, beginning with The Gamer's Quarter in 2003. There, Matthew was the Editor in Chief of the magazine, which focused on a literary approach to critiquing video games. After that, they worked as an editor for a multitude of academic- and entertainment-based online media. On those projects they also worked extensively with photography, and eventually became the photographer for Here, Chicago, and for many freelance photography commissions. Matthew now volunteers regularly as a consulting editor for various publications, and within the local LGBTQ community. Matthew currently works as a manager for the AIDS Foundation of Chicago. You can find them online at shapermc.com.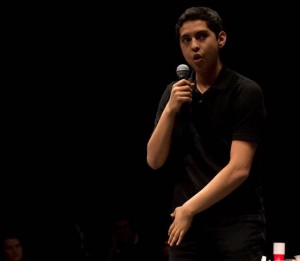 Xavier Jordan is currently jobless in every field imaginable. He is a freshman at the University of Illinois at Champaigne Urbana. He told his first story at grown folks stories and never looked back. Through "The Stoop Style Story Productions" he has begun hosting storytelling workshops with kids between 12-18, because he believes more young adults should be telling their stories. He's been around the storytelling scene for a while and hopes to share what he can with one of the best audiences at one of the best shows in town.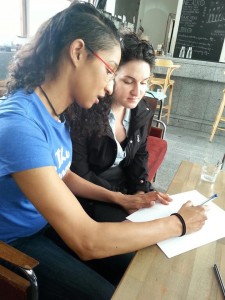 Lissette Hall is a Class of 2015 Honors graduate of Columbia College Chicago, having majored in Comedy Writing & Performance with an Arts in Healthcare minor. She is an improviser, international blogger, wellness advocate, and writer who recently returned to the United States from Prague, Czech Republic after being awarded a Gilman International Scholarship by the US State Department. She is passionate about the therapeutic benefits of improv, and is working towards scientifically documenting its validity as a form of Drama Therapy. Lissette is also a practitioner of Tai Chi and Yoga and is honored to be a featured storyteller with Here, Chicago.
This is going to be fun. I'm happy just looking at all their faces together. Please join us all for a great night. Bring a story, some good friends, or your warm attention and make it ever greater.
Here, Chicago on August 2nd
Theater Wit, 1229 W. Belmont
7:30 potluck | 8pm show
Advanced Tickets recommended