We live in a city that is both amazingly diverse and famously segregated. And not just in relation to ethnicity and economics, but along the lines of profession, politics, and social identity. Many of us spend the most time with people who are like us in some way, which can be nourishing and supportive, and also cause us to miss the joy and growth of diverse friendships. Because of this, many Chicagoans look for ways to intentionally cross those dividing lines.
Lately there's been more talk of the importance of connecting with people who seem different from us. Things like the success of social justice movements may in fact depend upon all our abilities to listen to and care about each other. There are many places where we can do that. Here, Chicago is one of them.
At the show, people from all walks of life share through potluck dishes and true stories. The nights are fun, surprising, and welcoming. Everyone who comes contributes; either a potluck dish to share, or $8 to help pay for the venue, or a strong, well-rehearsed story. Sometimes people make art and exhibit it. Someimes people help set up and break down the night. People always leave with more than they came with.
We hope you'll join us to make something great on June 7th. Here are the excellent people who are already planning to share their stories with you. If you'd like to tell a story too, go here to check out our guidelines.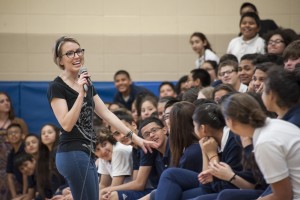 As an expert speaker, educator, crisis counselor and consultant on power-based-personal violence, not only does Karli Johnson "know her stuff", she has lived it. As a survivor of both domestic violence and sexual violence Karli shares her stories and experiences to educate children, teens and adults around the country. With a focus on pre-teens, teens and college age populations, Karli takes a new approach to these unpopular and "hard to hear" topics through audience participation and humor. Based out of Chicago, Karli has presented to military groups, businesses, worldwide corporations, local organizations and hundreds of thousands of students from elementary school to college and universities. In addition to public speaking, Karli is President and Co-Founder of EVA Alliance, a non-profit organization spreading awareness and education on the issues surrounding child abuse, domestic violence and sexual violence. When she's not busy saving the world from violence, Karli loves dancing, brainstorming Halloween costumes and eating.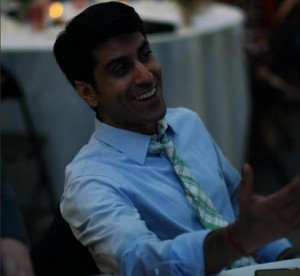 Ashwin Chugh grew up in the Western Suburbs of Chicago, and over the past ten years has lived in New Orleans, San Francisco, Denver, Mumbai, and Raleigh. He recently moved back to Chicago to be closer to family and friends. Ashwin is a Strategist, Organizer and Developer. He was Director of Training and Internships, and Public Engagement Coordinator for Barack Obama's Presidential Campaigns, and recruited the highest number of participants in battleground states. He launched a successful international campaign for Free Trade and Warehouse Zones in Mumbai, India, and helped launch two startups out of 1871 Chicago. His last startup sought to quantify behaviors through a health tracker app as a way of helping people alleviate anxiety and depression. He now works as a Strategist at an advertising agency, helping people understand the values of their consumers. When he's not creating apps or planning strategy workshops, Ashwin can be found in the kitchen cooking unique food combinations that play off his Indian roots and American upbringing.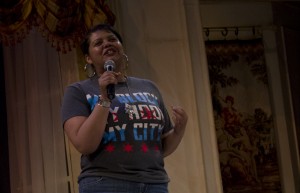 Lily Be is love. She's is a mom, a friend, a nanny, and a storyteller. There is nothing a bio can tell you that will truly introduce you to this wise Mexican badass from Humboldt Park, Chicago. She's the first Latina Moth GrandSLAM champion, WNEP Maelstrom winner, and she cohosts and coproduces a monthly storytelling show at Rosa's Lounge with her best friend Clarence Browley called The Stoop. Catch her all over the city sharing stories, and encouraging others to tell theirs.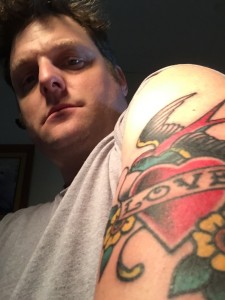 Danny Black plays music that sounds like AC/DC covering Hank Williams. He tells stories & jokes. He has a show called The God, Sex & Death Variety Hour @ Schuba's every 1st Wed. He and his brother saw a UFO in 1978. He's been institutionalized…twice. He was touched by God while listening to "A Whiter Shade of Pale" but it didn't last. He likes pumpkin seeds. He's chronically depressed. He has 6 movies he watches over & over. He was married. He's pretty lazy. He just loves too darn much. He's gained 30 lbs over the last few years. He records for the Bloodshot record label. He has a 7 year old son…who almost died. He's had 3 way sexual encounters. He remodels kitchens & bathrooms. He quit smoking. He is jealous of people who can easily fall asleep, hates moochers, loves free stuff and pictures having sex with every person he meets. He's not a very good friend. He has only close personal acquaintances. He thinks an affair is the most perfect relationship. He likes snacks…olives, pickled mushrooms, ham hocks, elotes. He is quiet, which many people take as being stuck up. He finally likes his hairdo….and also I forgot to mention before, he can do light plumbing & electrical work.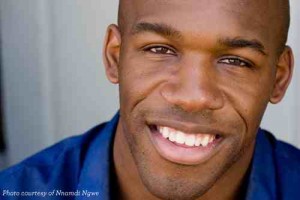 The show is hosted by Janna Sobel, who is joined each month by a different co-host. She is lucky to co-host with Nnamdi Ngwe again on July 7th! Nnamdi is a renowned Chicago improvisor and a member of Chaos Theory, The Deltones and the Armando Diaz Experience at iO. He has featured on Funny or Die, and has been Jimmy Carane's guest on Improv Nerd. He is also a former professional soccer player, and has toured internationally. You may have seen him in print advertising or commercials for some of your favorite retailers. Nnamdi also teaches improvisation at iO Chicago, and you should probably take a class from him.
Here, Chicago takes place at 8pm on June 7th at Theater Wit, 1229 W. Belmont. Doors open for the potluck at 7:30 pm. If you would like to tell a story, or to learn more about the potluck or how the show works, click here for information!
Tickets go fast, and Theater Wit is a slightly smaller venue so we recommend reserving seats in advance. No seats can be added once tickets have sold out, and we are sadly unable to make any exceptions. If you want to join us, please plan ahead and grab seats!
Can't wait to see you on the 7th,
Here, Chicago on June 7th
Theater Wit, 1229 W. Belmont
7:30 potluck / 8pm show
Tickets!