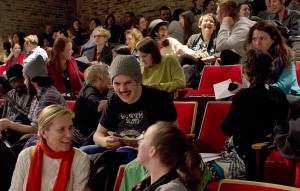 What a gorgeous night. Our first show of 2014 was a joy. After our brief hiatus, it was excellent to see so many people come out to be in each other's company. The show sold out, and true to form, it was a night of delicious food (fried Mac and Cheese balls– what!), beautiful stories, and warm creative community. Thank you all for making something wonderful together.
From time to time people talk with me about how much they want to win our Audience Favorite vote. I understand that wish, because it's great to come back, and an honor to be chosen by a savvy audience. But I also want to remind folks that the competitive element of all story slams, poetry slams, live-lit and improv shows is something of a conceit. The goal is to make is a night of excellent work, and competition is a game we add to foster that. As performers, we want to be part of shows where everyone throws down. And unlike sports, you can't really "beat other people" at storytelling. The best Here, Chicago slams are the ones where every story is told skillfully, artfully, and generously. Last night was such a night. All of our walk-up tellers were powerful and elegant. And pulling out ahead of the talented pack was your Audience Favorite Nestor Gomez. He has kindly agreed to return as a feature on May 3rd, and we are incredibly lucky to have him.
Warm thanks to all of our storytellers: Rachael Mason, Bill Hillman, Julie Dennison, Michael Powell, Andi Nelson, Nestor Gomez, Jonathan Feakins, Dave Santori and Chris Trani. All of you made a great night of courage, comedy, poetry and power. Thank you.
The potluck last night was also incredible. Salty caramel brownies, seared vegetables, casseroles and cakes and homemade guacamole. And those Mac n' Cheese balls…! It was all amazing. (If every any of you would like to volunteer to revive and produce our recipe page, let me know. It's something I ultimately don't have time to curate myself. But I'd love to share your recipes and photos of your dishes on the website. If you'd like to join us by volunteering in that way, drop a line to admin@herechicago.org.)
Please enjoy the masterful Matthew Williams' photos from the night. We are so lucky to have him photograph our events, and happy to pass his contact info along to anyone needing his services.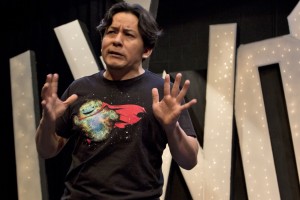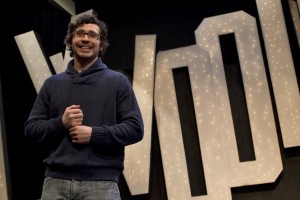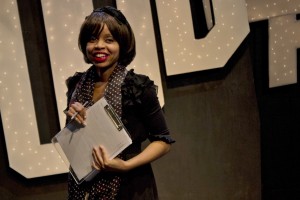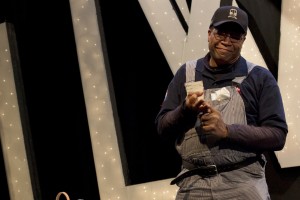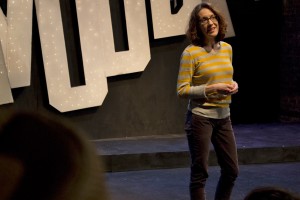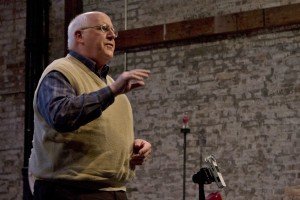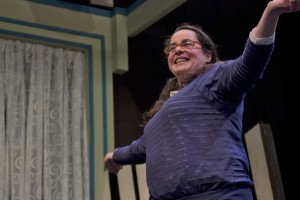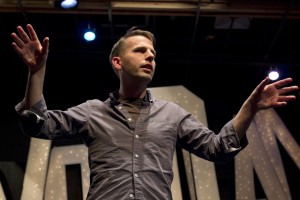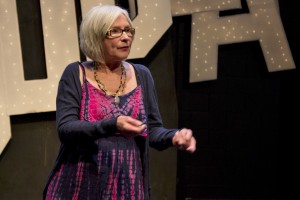 Warm thanks to Anjee-O for joining me as co-host, and to Molly Emmons, Christie Grace, Javier Smith, Lily BE and Andi Nelson for helping me set up and break down the night. Thanks also to Andi for bringing me a plate of food before it was all gone! The people who join me in volunteering time to this event are just the best, and I hope I hope you all had fun.
Happy springtime everyone! We started it off real nice.
Here, Chicago on May 3rd
Stage 773, 1225 W. Belmont
7:30 potluck / 8pm show