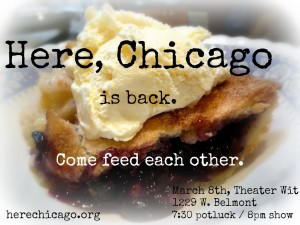 Hello good people! We have missed you! Here, Chicago returns bearing gifts on March 8th with a treasure chest of storytellers. Some of the kindest, most fascinating and talented people we know are set to bring you stories. We couldn't think of a better way to start the year.
Here are some handy reminders for our first show of 2015:
~ The show is happening on March 8th, the second Sunday of the month. (After March, we return to first Sundays.)
~We are at Theater Wit in March (1229 W. Belmont), where tickets sell out quickly. If you plan to attend, please reserve seats in advance at the link on the right, or by phone with Wit's box office at 773-975-8150.
~Whether you pay general admission ($8), or bring a potluck dish and receive free entry, you do need a ticket. Tickets usually sell out by the Saturday prior to the show, and so we recommend reserving by the Friday prior. Sadly, no seats can be added after the venue has sold out… no matter how much we love you.
~We enthusiastically if awkwardly remind everyone that free admission is offered to folks bringing a prepared or thoughtfully chosen dish for the potluck. Our goal is to make something great for each other, and so we give free admission to anyone contributing to dinner. We don't need fancy or expensive! But we discourage bottles of soda and bags of junk food.
~If you don't bring a dish, buying general admission tickets for $8 is just as generous a contribution to the night, as it allows us to pay for the venue… which basically makes you a hero.
~There are 5 open-mic spots for you to use to tell a story. If you'd like to bring one, excellent. Just sign up on the stage prior to 7:55 pm, and you may be chosen. Stories must be 5-7 minutes in length, and rehearsed to a point of comfort. No notes are allowed on the stage, and unexplored material is discouraged.
That's about it! Here are the good folks preparing stories already…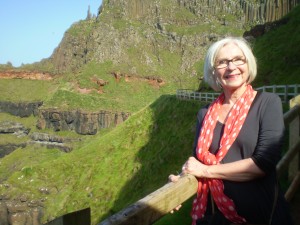 Julie Dennison lived in Zimbabwe (Rhodesia), Paris France, and Cameroun from 1967- 1975. While in Africa she had babies and opened community preschools. Upon returning to the US with her family, she was very active in social justice causes, especially on behalf of the anti-Apartheid movement and civil rights in Central America. During this period she raised four children and got degrees in French and theology, nearly completing a PhD in theological ethics. She taught in community college and the University of Iowa. After working as a parish pastor for three years, she moved to Chicago, and from 1990 to 1996, directed an international scholarship and global education program. In 1996, she left for Fujian China where she taught English for three years. After returning to the US, she became a flight attendant, which is work she continues to do. In 2014, she took classes in standup and storytelling at Second City and now enjoy both as avocational interests. Julie still travels extensively in her free time, in order to hang out with people all over the world, to touch and be touched by them. Her interests are education, personal connection, and movement: dancing, walking, skipping, swimming. Her focus is on life and what is life-giving; love. She calls it biophilia (Schweitzer called it reverence for life).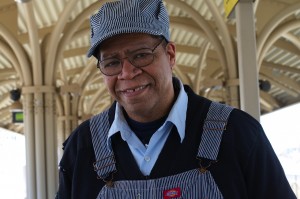 Known to Chicagoans for over 36 years as "the friendly Red Line Conductor", Michael Powell is the man behind the kind voice quietly reminding us all "do your homework", "take care of each other", "win or lose– cheer for the home team," and that "spring is just around the corner." He retired last year after working as a conductor since 1978; starting just six months after graduating from the University of Illinois. Michael married his wife Elaine 35 years ago after she introduced herself to him at a train stop, intrigued by the man who was making so many people smile. They have three grown children together, and Michael welcomed his first granddaughter last year. Many have remarked that Michael has never directly seen the joy he has caused inside his trains over 36 years and a million miles. In November, Here Chicago audience members had a chance to stand and tell stories of how he touched them, while he sat and listened. On March 8th, he is coming back to tell a story himself.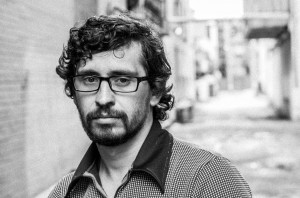 Bill Hillmann is the author of the award winning, internationally acclaimed novel, The Old Neighborhood. He is the founder of The Windy City Story Slam. His stories have appeared in NPR's Snap Judgment and The Story.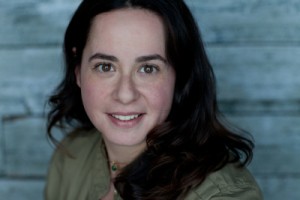 Rachael Mason began her career in improvisation at Skidmore College, home of the National College Comedy Festival, with the Ad-Liberal Artists. After graduating with a degree in English Literature, concentrating on Shakespearean Studies, she moved to Chicago to study improv comedy with Del Close. She trained at The Second City, The Annoyance, and iO. Currently she performs with The Second City Improv Allstars and The Boys. She is most happy when she is teaching improv, and is the Head of Advanced Improvisation at The Second City.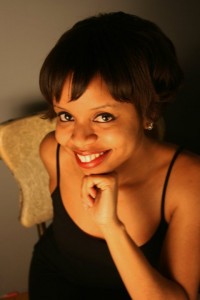 Here, Chicago
is hosted by
Janna Sobel
, who is joined by a guest co-host every month. This is one more way of introducing you to people who are making or hosting great shows in Chicago (…and to get to play with awesome friends!). She's very lucky to be joined this month by
Angela "Anjee-O" Oliver
, who
is a hybrid performing artist of many talents. Through music improv/sketch comedy, poetry, and interdisciplinary performance art, she seeks to inspire a greater interest in interdisciplinary art forms that celebrate female empowerment, diversity, and individuality. She is a Chicago Slam Works teaching artist and house ensemble member. And she is a curator and founder of The Sweet & Sour Poetry Hour Showcase/Open-Mic. She is also a recurring featured poet/solo performance act in the Beast Women Cabaret Series and a current ensemble member of Storytown improv and One Group Mind Theatre's improv ensemble, Hobo Jobo. Anjee-O is also a talented jazz singer. She has sung back-up for How Far to Austin at the House of Blues Chicago. In the not so distant past, she has brought her hybrid talents to the stages of The Annoyance, UP Comedy Club, iO Chicago, MCL Theater, Stage 773 and the House of Blues. Staying true to what her Besties call her "uncensored and unedited" reflections, Anjee-O is known for her candid insights and depictions of an artist's life.
Join us for a wonderful night!
Here, Chicago on March 8th
Theater Wit, 1229 W. Belmont
7:30 potluck / 8pm show
TICKETS