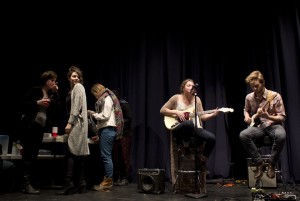 It was a night to remember. Sometimes I get all "down in the weeds" at these events; focusing on the minutiae of minute-to-minute producing. And then sometimes, I'm able to sit back and catch glimpses of this beautiful, diverse, joyful thing that people come together once a month to make. And when I do, the view is tremendous.
In the last 3 1/2 years of directing this show, it has given me a number of gifts. One is the opportunity to put the dignity of a theatrical frame around a broad, diverse swath of humanity. A stage allows people to come undefended– both those upon it, and those in the audience– and to look for and speak to the goodness in each other. We may recognize our own strength and vulnerability in the performers, and accept it in ourselves a little more. Performers are also rewarded for their courage and craft by being appreciated and received. At Here, Chicago, there's an opportunity for many people–not just regular performers or theater-goers– to experience this exchange.
In looking back at the end of a year, I am grateful to everyone who has contributed to this possibility. Still to Dan Boyd, who created a show with me back in the winter of 2010 that this project grew out of. A creative chemistry between us made anything seem possible, and we took good, big ideas and made them real. In continuing to produce the show independently since the summer of 2013, many have contributed in ways that let it continue to grow and thrive. Brandie Madrid, Stephanie Douglass, Erin Kahoa, Joe Janes, Andi Nelson, Lily Be, Xavier Jordan and Ray Teresi all lent their skill and love on past show nights to keep things clicking along. And everyone who brings a dish to feed strangers, or pays $8 to help cover the theater rental, or tells a story, or makes artwork based on a story they heard, or takes tickets, or helps set up or break down, or co-hosts the event; you all make this ridiculously magical thing together. Thank you.
Last night was wonderful. We had excellent food and excellent stories. The lineup consisted of all of our Audience's Favorite walk-up storytellers of 2014, and man it was a great night of performance. Skillful, generous, entertaining and honest… we all laughed and cried and made werewolf hands, and in the end, there was a standing ovation. Thanks to Xavier Jordan, Andi Nelson, Ted Fishman, Wolfgang Stein, Clarence Browley, Angelina Marie, Clay Neigher, Kevin D'Ambrosio, Lily Be and Nate Parkes for such powerful, skillful performances. And thanks to Alize Jireh and Jerry Jasrowiak for starting us off with a beautiful song.
Thanks to Mary Cait Walthall and Molly Emmons for helping me manage the event, and to Christie Grace and Javier Smith for setting things up and breaking them down. You guys are heroes for real. Thanks to Marina Muzychenko for exhibiting, and organizing other artists to exhibit beautiful artwork based on the stories told during the year. Thanks to artists Holly Morningstar, Anderson Castilho, Max Komarov and Bill Alexander for sharing their work. Their art brings a whole new level of wonder to the project. Special thanks to Nnamdi Ngwe for joining me to hold and host the show. It was a joy and honor to play with him. Thanks as ever to Matthew Williamson for recording the evening and creating the audio above, and for his beautiful photography which you can see just below.
Enjoy the photos and the audio recording, and please see below the photos for a note about our 2015 schedule!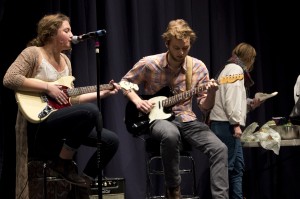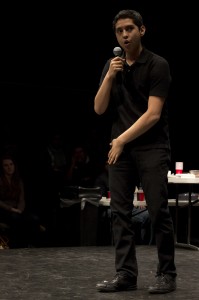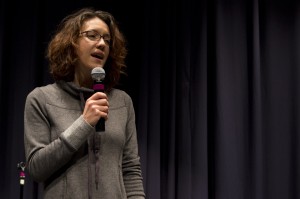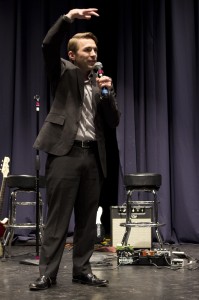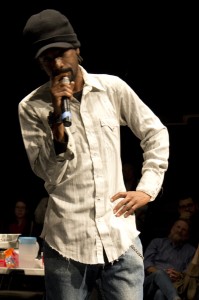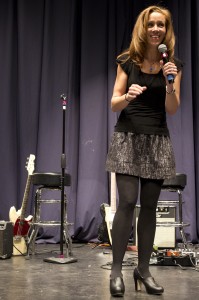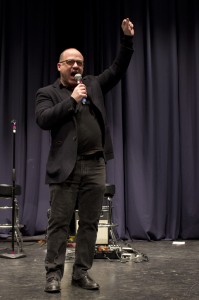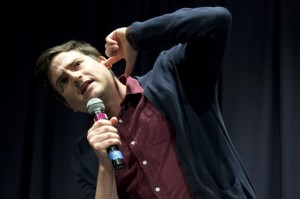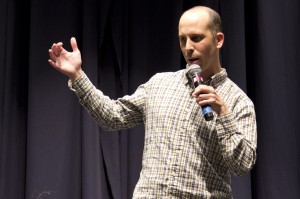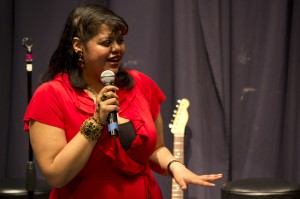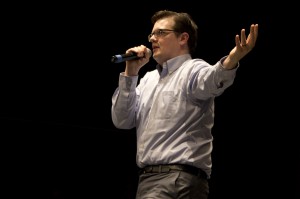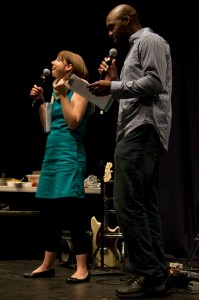 Thanks to last night's audience for your love and well-wishes on my journey too. I will be away from Chicago in Arizona during January and February, taking a little time away from supporting other people in telling their stories, and putting it into telling my own. There's a piece I've been working on quietly over several years that it's time to bring into being. I hope to return to you in the Spring with a good thing to give.
Therefore, Here, Chicago shows will be on a short hiatus during January and February. We will resume as usual in March. See you then, with the same excellent, diverse storytellers, same beautiful theatrical venue, the same commitment to lively, supportive, diverse community… and with a hopefully more rested and re-invested host. ;) It has been a marathon 3 1/2 years, and I am both sad to pause for a bit, and grateful for the opportunity to rest and return with new energy.
Happy New Year, everyone. And thanks again for making this good thing together.
<3
Janna
Here, Chicago on March 8th
Stage 773, 1225 W. Belmont
7:30 potluck/8pm show
FREE and $8 tickets available online soon