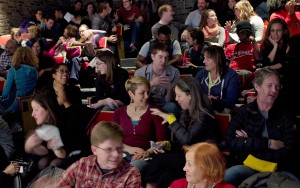 Ladies and gentlemen, December 7th is when it happens. Dress up or dress down, bring friends or a dish for the holiday feast, and join us for Here, Chicago's Year End Show featuring our Audience's Favorite storytellers from 2014. This show features a bountiful holiday potluck dinner, artwork from artists inspired by Here, Chicago stories, and the liveliest, most diverse night of creative community Chicago has going.
Secure seats now at the link on the right. The holiday shows sell out, so please reserve seats in advance. Seats are ONLY available through the link on the right; not through Stage 773, nor through any meet-up group, facebook or text messaging. Both free/potluck and general admission tickets are only available here online.
Because of our audiences' excellent taste, we have a downright amazing lineup of storytellers for you on December 7th. It is an honor to be selected by a Here, Chicago audience throughout the year, and WE are honored to have all these people together on one night. Congratulations to them, and thank you all for your good taste. Lets celebrate the past year together.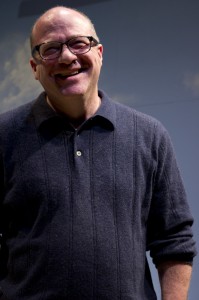 Ted C. Fishman is an award-winning journalist, best-selling author and former derivatives trader. Ted's latest book, Shock of Gray, explores how the aging of the world's population changes nearly all the important relationships in your life. His international bestseller, China, Inc.: has been translated into twenty-seven languages, including Vietnamese and Slovenian. A pirate translation in Beijing sells for less than one dollar. Ted's essays and reports appear in The New York Times Magazine, USA Today, the National Geographic, Chicago Magazine and Harper's, among other places. Ted has lived and worked in Japan and Indonesia. He now lives in Hyde Park, because it's close to Chinatown.
.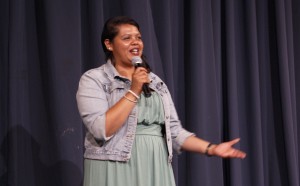 Lily Be is love. She's is a mom, a friend, a nanny, and a storyteller. There is nothing a bio can tell you that will truly introduce you to this wise Mexican badass from Humboldt Park, Chicago. She's the first Latina Moth GrandSLAM champion, WNEP Maelstrom winner, and she cohosts and coproduces a monthly storytelling show at Rosa's Lounge with her best friend Clarence called The Stoop. Catch her all over sharing stories. Only then will you know what a bio could never tell you about this woman.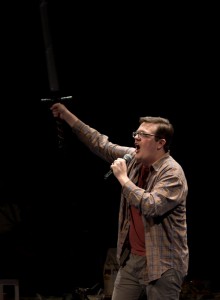 Nate Parkes is an improviser, writer, and–on one occasion–a town crier. Since moving to Chicago in 2007 performed at iO, The Playground Theater and Comedysportz. He presently works at Jellyvision. If he looks tired, it's because he spent November trying to finally write that fantasy novel about alchemists, sailing ships, family secrets, and the shifting dynamics of marriage when your husband has been turned into a monkey. If you think of a good title, let him know.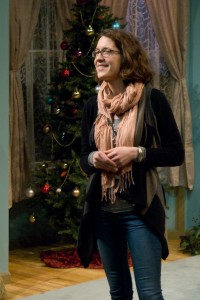 Andi Nelson works with science and story. When not working with NASA scientists and educators, she is trying to make something beautiful out of nothing special, navigating the waters of parenting a teenage daughter (who is also her magnum opus), and looking at the world with new eyes.
.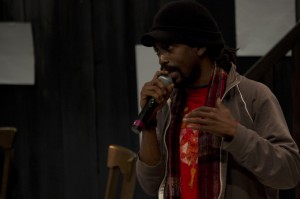 Clarence Browley was born and raised in Chicago, and he hosts a show with his best friend Lily Be called Stoop Style Stories at Rosa's Lounge every last Thursday of the month (which is a beautiful show, and you should go see it!). He's an easy-going guy who likes to laugh, play video games, and read comics. He lives a mysterious life of magic and wonder… at least, that's what he likes to say to keep people from knowing too much. If there is anything he wants you to know, he'll tell you in his story. Clarence is the nicest grump you'll ever know.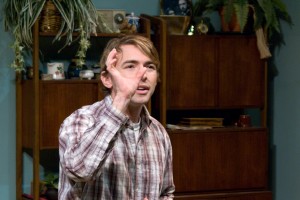 Wolfgang Stein was raised by wolves in Wisconsin. He was welcomed into civilization about 2007 when he moved to Chicago. He is a writer, performer, director and producer of comedy all around the city. He curates the Bucket Show once a month with singer/songwriters, storytellers and improv at Uncommon Ground. He goofs around at the Annoyance Theatre and makes up songs in the musical program at the Second City. He is on the faculty of the Second City Training Center and Annoyance Theatre.  He once howled with the wolves at the Lincoln Park Zoo. steintime.tumblr.com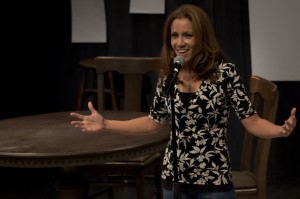 Angelina Pizzi has tried on a lot of different hats over the years: scientist, super server, commodities trader, student and teacher. While searching for the best fit, she amassed an anthology of interesting stories that she has shared at many local live lit events to great acclaim. Angelina is now a girls' math coach. She founded Girls Count! to empower young girls by helping them gain confidence as learners of math, and she thinks you should stop saying "I'm not a math person" in front of your kids. Seriously… just stop it.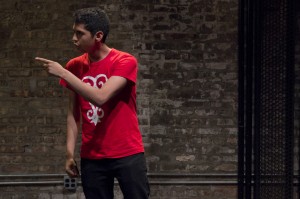 Xavier Jordan is currently jobless in every field imaginable. He is a freshman at the University of Illinois at Champaigne Urbana. He told his first story at grown folks stories and never looked back. He has performed at events such as Lit-Mash, You're Being Ridiculous, I Shit You Not, Adult Education, The Moth, Real Talk Live, One time at Elmhurst college, and last but not least, here at Here, Chicago. He comes for the stories and stays for the food.
.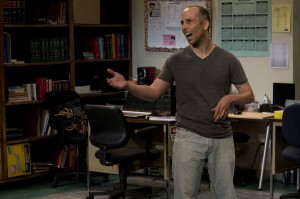 Kevin D'Ambrosio grew up on the north shore of Massachusetts. He found some gray in his beard recently, so you could say he's been in Chicago for a while. At the turn of century he studied at iO Chicago and Annoyance Theater. Then he found a home at Piven Theatre where he helped to create a theatre games class for adults with developmental disabilities. A few years ago, Kevin left teaching and launched himself back into performing in theatre, voiceovers, indie films, and as a storyteller. On the other side of his life Kevin works in construction management. Kevin performs regularly at Second City's, Sunday Morning Stories.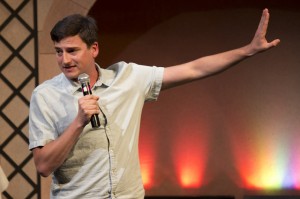 After receiving degrees from Tufts University, The School of the Museum of Fine Arts, and The University of Pennsylvania, Clay Neigher ventured west towards L.A, stopping only for what he thought was a short visit to Chicago. 8 years later, he is happily still here. He is a graduate of The Annoyance, The Second City and iO Theater training programs. Clay works as a creative consultant and strategist. He is also a Technori.com evangelist and has served Technori as a writer and creative consultant since post inception. Perhaps more importantly, Clay Neigher is a stubborn cyclist. He always prefers two wheels to four and pedals to any destination whether it's miles of icy road commuting to work or a few blocks to visit a pal. After enduring his fourth bike theft, he came up with an idea that would benefit cyclists everywhere. Since then, he has been developing this solution with local techies. You can follow him on Twitter @madpitcher82.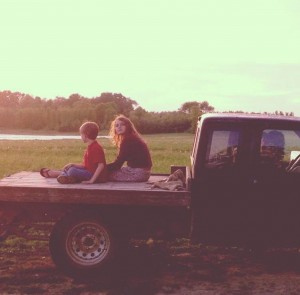 We're also giving you the holiday present of a song from this songbird. From the moment Alizé Jireh first held a ukulele, she felt it would be an instrument for her to tell stories. She hopes her words are received as a gift from her to you. She was born in the Dominican Republic, and moved to Chicago 3 years ago while still in high school. Here, she has been learning more about herself, and trying to find what, if any, are the redeeming qualities of this city's freezing winters.
.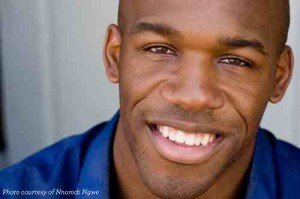 Joining Janna to co-host the Holiday Show is Nnamdi Ngwe, a renowned Chicago improvisor and a member of Chaos Theory, The Deltones and the Armando Diaz Experience at iO. He has featured on Funny or Die, and has been Jimmy Carane's guest on Improv Nerd. He is also a former professional soccer player, and has toured internationally. You may have seen him in print advertising or commercials for some of your favorite retailers. Nnamdi also teaches at iO Chicago, and you should take a class from him.
.
This show is going to be ridiculously wonderful. Join us for the fun.
Here, Chicago on December 7th
Stage 773, 1225 W. Belmont
7:30 potluck // 8pm show
Tickets!