Podcast: Play in new window | Download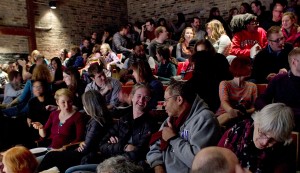 November's show was beautiful. Huge thanks to all who convened from across our fair city. The stories were powerful, funny, heartbreaking, exciting, and skillfully, artfully told. The potluck dishes were delectable, and the artwork inspired by last month's show and hung for exhibit in the hall was SWEET! Lindsay Muscato was a gracious, graceful co-host, and Mary Cait Walthall and Molly Emmons were, as always, the slickest production pair on the planet. Matthew Williamson again did a beautiful job with sound and photography, as you can see here. Marina Muze and her participating artists (names will be posted soon) showed fascinating pieces.
Thanks to our featured storytellers Harry Gottlieb, Roger Bonair-Agard, Angelina Pizzi and Joel Balzano, and to our walk-up tellers Lauren Yarborough, Patrick Hickey, Ted Fishman and Mary Cait Walthall. Your stories were so varied and well-told. A woman came up to me after the show and said "I have never experienced anything like this before, and I loved it. There was excitement and poetry and sorrow and laughter. It was like being on a ride… it scared me a little, not knowing what to expect next… but I like being scared!" I took that as a high compliment, and I pass it along to each of you.
Special thanks also to members of our audience who stood and shared mini-stories about ways that Michael Powell, the famous retired "Friendly Redline Conductor" brightened their days. We were honored to have Michael and his wife with us in the audience last night… maybe graced is more like it. It was remarkable to be in the room with a person who decided to use his voice and position to uplift strangers every minute of every day over thirty-plus years. And to watch 90 out of 100 hands shoot up when I asked who in the room had ever been cheered or lifted up by his voice, and see him turn around in his chair and take all of you in, was one of the happiest moments of my life. Thank you Leah Jones, for volunteering first to speak, and thank you all for returning some of love and cheer that he gave us for so long.
On a personal note, I'd like to say something about last night. It made me really happy. Normally I keep my image and experience out of the spotlight when talking about the show (to the extent that I can). I generally use a "we" when speaking for it, mindful that it consists entirely of those who attend and contribute; performers and chefs, listeners and artists and production volunteers. This event is an opportunity for collaboration.
It is also true that it is something that I make, and spend nearly 50 hours a month crafting and preparing. Gathering and encouraging features, writing articles and newsletters, making press-releases and advertising, creating images and assembling photos, printing materials and procuring supplies, working on the podcast, accounting, counting points and securing the venues are all things I do as a volunteer. Because most of our tickets are given away free to those who bring a dish for the potluck, only enough money comes in from the $8 tickets to help cover the show's costs. Sometimes there's a loss.
Sometimes I get tired. In the cab on the way from teaching to the show last night, my driver looked in the rear view mirror at me and said, "you look exhausted". First I said, "I am," and then I told him that's probably not the best compliment to give a lady. In looking towards 2015, and back over the last 3 years of the show, I'm recognizing I need to find ways to make it a nourishing-and-not-depleting thing for me too. (I am fiercely protective of the show's accessible and equitable aspects though, as well as the rare, un-capitalized-upon generosity it is made of… which makes sustainability more of a puzzle, so wish me luck! Suggestions welcome. ;)) But the reason I want to continue is because of things like last night. Where a diverse group of people, varied in age, income, profession, gender identity, ethnicity and experience–get to enjoy and see goodness in each other. Creative forms can allow the truer, brighter, more tender (and in-common) things inside us to be recognized. Through the stories, dishes, attention and artwork, we get to see each other shine.
When these things are made and given with craft and care, love and skill, the nights are wonderful, and I feel like the hoo-ha I put into this hootenany every month is worth it. Last night was such a night. Thank you to everyone for your care and craft. You made something beautiful.
Please enjoy Matt Williamson's photos. The podcast will be up soon.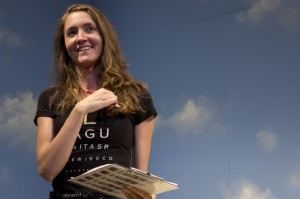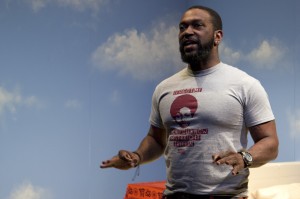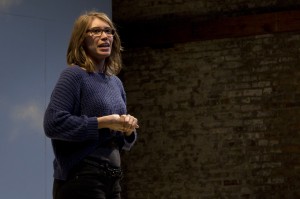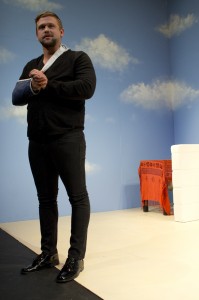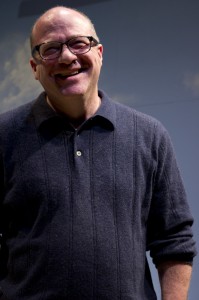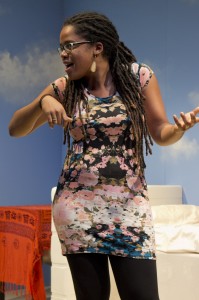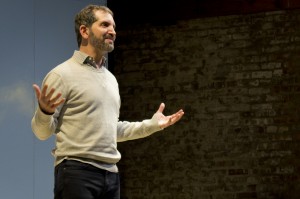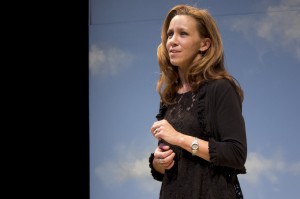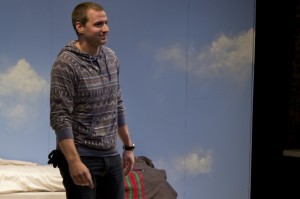 Our final show of 2014 is going to be one for the record books. December's Year End show is always awesome. It has a unique format which features all of our Audience Favorite Walk-up Tellers from the year– no curated guests or open-mic spots– just the tellers our audiences have selected to return over the year. 2014's lineup is especially stellar. December 7th's show will feature:
Wolfgang Stein
Andi Nelson
Nate Parkes
Xavier Retana
Clarence Browley
Lily Be
Kevin D'Ambrosio
Clay Neigher
Angelina Marie
and your Audience Favorite from last night… Ted Fishman! We're very happy to have him return.
The holiday potlucks are generally abundant and exquisite. So please join us on December 7th for a smashing night of live theater and community. Dress up, bring friends, bring food, or just bring your gorgeous faces. We can't wait to see you.
<3
Janna
Here, Chicago on December 7th
Stage 773, 1225 W. Belmont
7:30 potluck / 8pm show
Tickets