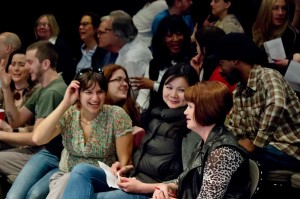 Here's the Story has been in the world for three years. On May 4th, join us to celebrate the existence of this good thing. On the first Sunday of each month, about 150 artists and thinkers from all different disciplines and backgrounds convene to share true stories, home-cooked meals, and warm attention. We intentionally curate the shows to bring people together with a variety of knowledge, experience, and backgrounds, so that we can all have the pleasure of each other's company.
HtS was born from all kinds of wishes… the wish to invigorate the arts of solo performance and storytelling in Chicago… the wish to foster a community of creative thinkers and doers that connects people from otherwise separate social circles… the wish to question the economics of art-making and sharing… the wish to spark a collective desire to go out and lead "story-worthy" lives… the wish to reintroduce folks to the simple pleasure of listening. We hope that the show has given, or will give, you any of these things.
On May 4th we have a lovely group of people assembling to tell you stories. Shannon Cason, Angela Vela, EZ, and April's Audience Favorite, Nate Parkes are raring to go. This episode is co-hosted by Janna Sobel and Ian Belknap, and before the show, Pixihammer Press will be hammering out custom love and hate letters made to order! It'll be a fun night of creativity and community. We hope you'll join us.
Shannon Cason is the current Chicago Moth GrandSLAM Champion. When not telling stories, he can be found selling ladies shoes at Macy's State Street. Find him blogging online at ShannonCason.com. Shannon is a contributor to NPR's Snap Judgement, Staff Writer for WBEZ's Paper Machete, Host of Home Made Stories iTunes podcast, and co-host of Do Not Submit open-mic. You can learn more about him at shannoncason.com.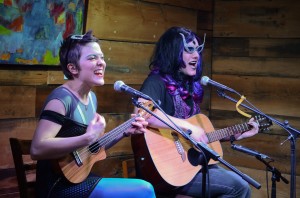 We are two clouds from way, way in the future possessing two water monkey replicas of the acoustic glam duo "EZ"; pop idols from way in the future. We time-traveled to appeared again in Kalamazoo, MI in January of 2013, and now we reside in Chicago. Our interests include: laughter, sparkles, glitter, yelling, hugs and inspiring peace. We released our debut EP "Electric Zebra" last year and are currently working toward a full LP. (In their current incarnation, EZ is also known as Emilla Parr and Zack Apman.)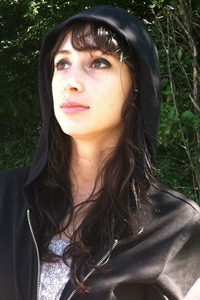 Angela Vela is a writer, storyteller and stand-up comedian. Angela's blend of comedy comes from her unique perspective and daily observations of city life, relationships, mishaps and pop culture.  Her topics are often a tell-it-like-it-is approach and always full of animated storytelling. Her brilliant reading series, The Seven Deadly Sins happens at Cafe Mustache at 8pm. This eclectic series blends storytelling, mixed media, stand-up comedy and poetry together for a fantastic evening in a cozy setting.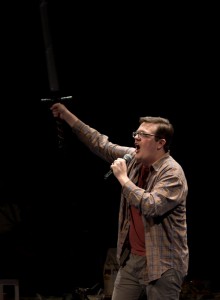 Nate Parkes flew to Chicago from Portland, Oregon back in 2007 and his arms are still tired. Nate is a graduate of both iO and Second City, and his greatest pleasures are doing ComedySportz and writing about himself in the third person.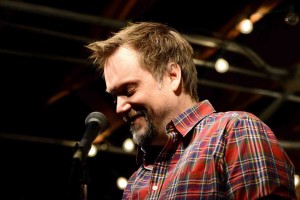 Janna's co-host on May 4th is Ian Belknap, a writer/performer living in Chicago. He is the Founder and Overlord of WRITE CLUB, the world's greatest competitive reading series, now in five North American cities. Since launching in 2011, WRITE CLUB has donated over $10,000 to non-profits of every description. Ian also serves as the Dean of Mean at The Paper Machete. He is a former cast member of The Encyclopedia Show, and has performed at virtually every Live Lit show in Chicago. He is writer/peformer of the solo shows Bring Me the Head of James Franco, That I May Prepare a Savory Goulash in the Narrow and Misshapen Pot of His Skull, and Wide Open Beaver Shot of My Heart: A Comedy With a Body Count. He used to be an actor, but came to his senses. He used to be a stand-up comedian, but found that is tender, tender feelings could not withstand it. ianbelknap.com.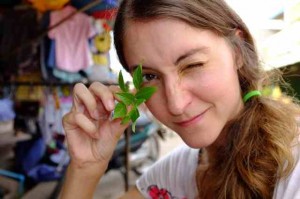 Pixiehammer Press is our new favorite project. Owned by Lindsay Muscato and Ian Belknap, the pixies will hammer out a one-of-a-kind love or hate letter for you on an old-fashioned type-writer. Not everyone's good with words. Not everyone has a typewriter. Ian and Lindsay are BOTH word-savvy, AND typewriter-having. Pixiehammer will be hand-typing letters in Stage 773's lobby on May 4th, BETWEEN 7 and 8pm, so show up early and get your old-timey communication on. Whether you need something tender-hearted or sharp-tongued, they've got you covered. Originally from Buffalo, New York, Lindsay studied Journalism at Northwestern University. She is a 2011 alum of Harpswell Foundation Leadership Residency in Phnom Penh, Cambodia. Performs and is a staffer at WRITE CLUB, a national competitive reading series, voted best in Chicago by Chicago Magazine and  the Chicago Reader. She is an occasional playwright, recipient of 2008 CAAP grant from the City of Chicago. Ian, you already read about.
May 4th's show is going to be a wonderful event. Please make it even more wonderful with your presence! Bring a story, bring food to share, bring your warm attention, and make some new friends. That's what we're here for.
Here's the Story on May 4th
Stage 773, 1225 W. Belmont Ave
7:30 potluck, 8pm show
Tickets