Podcast: Play in new window | Download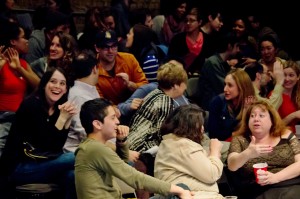 Here's the Story last night was full of strong, bright energy. Maybe it's a springtime thing, but the stories were roundly vibrant and well-told, the food was amazing, and the sold-out house was boisterous and wide-awake. We'd like to thank our features, Kelsie Huff, Nick Johne, Angelique Nelson, Irv Levinson and Tim Witting, and our walk-up tellers Ben Wegner, Erika Napoletano, Pamela Wright, Stephanie Douglass and Nate Parkes for telling entertaining, bold and inspiring stories. There were enough bouts of spontaneous applause and uproarious laughter during their stories to make it clear they did their jobs well. Folks reported being moved and impressed and inspired by a lot of what they all had to say. Thank you. 
Here's the Story ended at 10:15 last night. We try to avoid ending after 10pm, in consideration of early Mondays. But sometimes stories run a little long. In the past, I have chosen not to use a loud or widely-visible time-signal that can startle or embarrass tellers, and have instead used a one-minute warning light from the front row. But because it is our priority that everyone has a timely departure, we will bring in a new timing system that will make signals and expectations even clearer, still without being invasive. We thank you for your patience, and apologize for the over-time last night.
Observed themes that were mentioned after the show last night were taking journeys, moving into new planes of awareness, questioning where we belong and finding what may hold us through times of uncertainty, painful family history, fathers, and yes… phalluses. Your Audience Favorite teller (by a landslide, I might add, with perhaps the highest score in HtS history), was Nate Parkes. We are so happy that he will be returning as a feature next month. 
Many thanks to Molly Emmons, Xavier Retana, Katie Liesener, Matthew Williamson and Stephanie Douglass for joining me in volunteering to run the show last night. And a thousand thanks to Lily BE who co-hosted and co-held the show with wit and warmth and style. It is a joy to collaborate with her. 
Please enjoy Matthew Williamson's photos from the night. We continue to be incredibly lucky for his good eye. He sees the strength and beauty clear.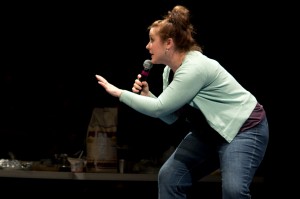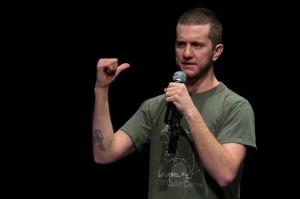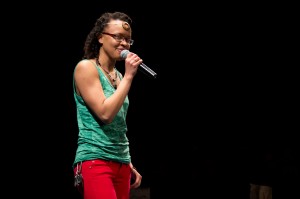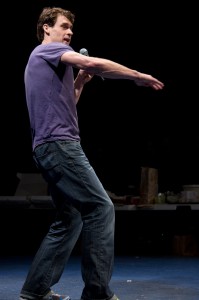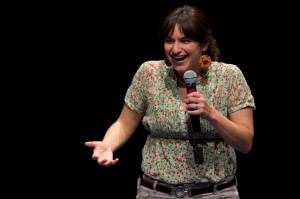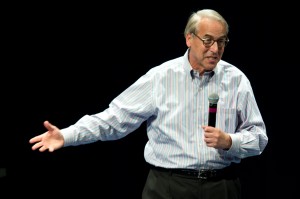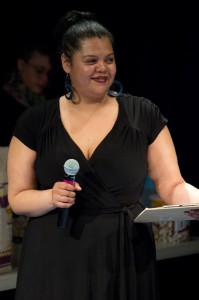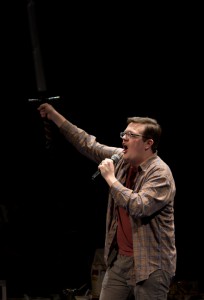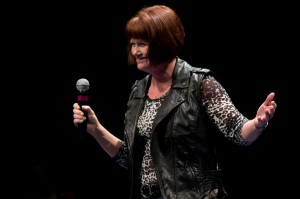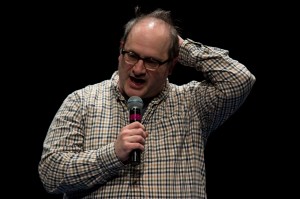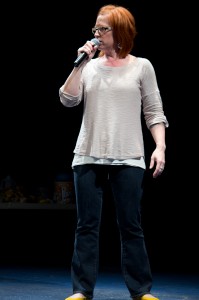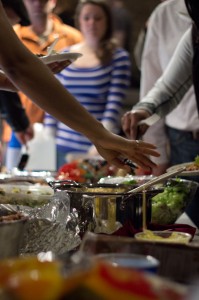 Please join us again on May 4th for Here's the Story's 3rd Anniversary. It's hard to believe it's been three years! Lots of change and evolution, and a growing continuation of what's good. There is a magic about this project that remains ineffable to me. The closest I can get to understanding it is that we're not only reinvigorating an art as old as time with this direct, page-free storytelling, but we are creating modern community that finds commonality across boundaries that are outdated. This show is an opportunity for all of us to connect with amazing people across the social, political, religious, cultural, professional, generational and economic lines that often organize our lives; to enjoy the tremendous benefits of having a wide range of friends and allies. Thank you each for taking part, and for sharing your stories, attention, and culinary wizardry with each other.
<3
Here's the Story
May 4th
Stage 773, 1225 W. Belmont
7:30 potluck/8pm show
Tickets