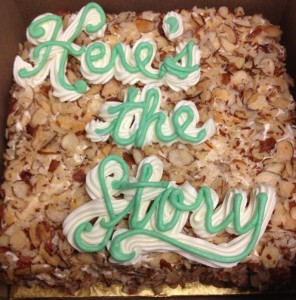 What a beautiful summer we're having!  And what a sweet show on July 7. The house was full of great people, and the stage was alive with excellent stories.  Stephanie Douglass filled Dan's hosting shoes for a night and stole our hearts, and then Kat Barker stole them back as the Audience Favorite walk-up teller. Thanks to you all, Kat will be returning as a feature on August 4!
The potluck also continued to wow us with its bounty.  Duo may have topped his famous bacon corn-cupcakes with pale blue Here's the Story bubble-shaped macaroons (which were gluten free so I could eat them!) and Polly Yukevich honored us with a beautiful Here's the Story cake (shown here!) and everyone else brought dishes that dazzled with their care and craft.  Because of all this, it seemed impossible to go any longer without an HtS recipe page, and so one is now under construction. If you've brought a dish to Here's the Story that people have enjoyed, and you'd like them to be able to make it themselves, please do send your recipes our way! Email recipes to admin@herechicago.org, and let the online community potluck begin!
On August 4, Kat will be joined by 4 other hand-picked storytellers who are guaranteed to blow you away.  We are beyond honored to have these incredible people with us in August. Please read on to learn more about them.
Arlene Malinowski is an actor/playwright whose 5 award-winning solo shows have been produced internationally.  In addition to her film and TV work (some of it good- most of it bad) she has appeared on stages in LA and Chicago including the Goodman and Victory Gardens. She teaches at Chicago Dramatists privately and conducts master classes. She has been a contributing writer to a lot of literary publications with strange names like Paramanu Pentataquark, En Posse Review and The. She is a Resident playwright at Chicago Dramatists, An Associate artist at 16th St. Theater and a Ragdale Fellow. Arlene is, to her knowledge, the only actor to appear both in Shakespeare's Measure for Measure AND Doogie Howser and in the same 24 hours. Learn more about her work at arlenemalinowski.com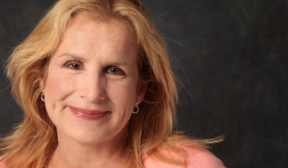 An award-winning journalist for more than 32 years and author of three nonfiction books, Michele Weldon is a prolific and accomplished storyteller across many platforms and genres, with the continuous thread through her work of compelling narrative. As a writer, speaker or instructor, she maintains a consistency of voice and a belief that true, authentic stories are her mission.  Her first critically acclaimed book, I Closed My Eyes: Revelations of a Battered Woman, (Hazelden/ HCI, 1999), has had more than a dozen printings and was translated into seven languages. Weldon's second book, Writing to Save Your Life (Hazelden/HCI, 2001), has been translated into four languages and is the basis of her Writing to Save Your Life Workshops given in the Chicago area and around the country. In "Everyman News: The Changing American Front Page," (University of Missouri, 2008), Weldon writes about the future of American journalism and the intersection of popular culture and media in modern storytelling. Since 1996 she has been teaching journalism at the graduate and undergraduate levels at her alma mater, Northwestern University's Medill School. As assistant professor in journalism, Weldon led the redesign of the freshmen undergraduate curriculum with groundbreaking instruction in Reporting & Writing and Multimedia Storytelling. As a staff writer, editor or freelance contributor, Weldon has written for ADWEEK, Alternet.org, Chicago Tribune, Chicago Sun-Times, Chicago magazine, Huffington Post, Los Angeles Times, Newsday, New York Times, North Shore, Parenting, Seventeen, Spirit, Writer's Digest, Woman's Day, womensenews.org. She maintains a Twitter presence on multimedia storytelling as micheleweldon as well as two multimedia blogs, including Everywoman News on her site, www.everymannews.com; and her Wrestling Mom blog. A popular public speaker, Weldon has delivered nearly 200 keynotes across the country and Canada, and has been a guest on hundreds of radio and television shows in the United States, Europe and Canada including "The Oprah Winfrey Show," "Jenny Jones," "Milt Rosenberg Show," "The Sunday Papers," "NBC's Later Today," "ABC Sunday Morning," "CBS Morning Show," and BBC-TV.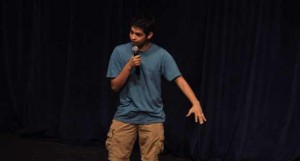 Xavier Retana is an alive person who can perform many common bodily functions. Raised on the cold hard streets of Tuscon Arizona (joke), Xavier is sixteen years old and first caught the story telling bug at Grown Folks Stories in Wicker Park. He currently attends Lane Tech High School and is degreeless in every subject. He is smart, funny and he loves complimenting himself in the third person through the writing of his own bio.  He is here solely to entertain.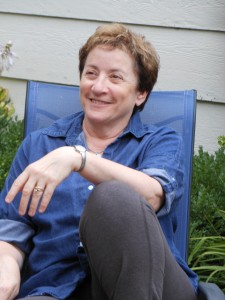 Debbi Welch has performed at Story Lab – and featured at This Much is True and Story Sessions. She's completed a picture book which she's now sending out to publishers – and is painfully hard at work on a middle grade novel. Debbi is the president of the board of Young Chicago Authors – a 22 year old non-profit which offers free weekly programming, workshops and in-school residencies throughout Chicagoland. It's also the home of Louder Than a Bomb, the largest youth poetry festival in the world.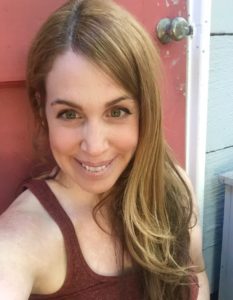 Kat Barker, comedic performer, writer and director, currently teaches improvisation at Second City's Training Center, while having had the privilege of directing both of Second City's Youth and Teen Ensembles this past school year.  Kat has performed at Just For Laughs Chicago, Chicago Sketchfest, iO Theater,Annoyance Theater, Comedy Sportz, Gayco, Storybox Theater, Chicago Improv Festival, Montreal Improv Festival and Second City's Skybox Theater.  She has a BA in theater from Occidental College and is a graduate of the Second City Conservatory, iO and Annoyance Theater's improv programs, as well as Second City's writing and directing programs . This past year Kat finished writing comedic pilot: "Mascot" with Colleen Doyle and Full length folk musical: "She is Fire" with musician Megan Deiger.
We look forward to being with you.
Here's the Story on August 4th
Stage 773, 1225 W. Belmont Ave
7:30 potluck/8pm show
$8 at the door, or free with a prepared dish
http://heresthestorychicago.brownpapertickets.com/